Resources and services for education and career decisions
Looking for education and career coaching as you start the next chapter of your life? We get that this can be somewhat daunting, especially as the decisions you make now can impact your future career. But thanks to NP's Education & Career Coaching Services, you can access a host of resources and services to help you understand your natural strengths and abilities – so that you can determine what kinds of roles you are best suited for, and how further studies could help you attain your goals. If you are a recent NP graduate, you will continue to have our support.
Select the title that best describes you:


---
For our Current Students
Education & Career Coaching
Wondering about your career choices or whether to go for further studies? Need an expert to help you review all the options available? Make an appointment with our passionate team of Education & Career Coaches and let us help you along this journey of self-discovery.
Assessment Tools
The MySkillsFuture Portal is an additional resource you can use to better understand yourself as you plan your further study or career options. You will find personal assessment tools that you can use in conjunction with MyCareersFuture, which will help you match your skills to relevant jobs.



RIASEC Quiz

Discover your Career Interests, Skills Confidence and Work Values in this assessment found on the MySkillsFuture Portal. This will give you insights into what you will need to do to prepare for your future career.

To access the assessment tool, you will need to log in using your Singpass.

Find out more

MyCareersFuture

As part of Workforce Singapore's (WSG) suite of Career Matching Services, MyCareersFuture complements the Government's efforts to build an adaptable and competent workforce by preparing graduates for careers of the future, based on their skills and competencies.

Find out more



---
For our Graduates & Alumni who graduated from NP within the last 3 years
Education & Career Coaching
For the first three years after your graduation, you can take advantage of Professional Education & Career Coaching through face-to-face or online sessions as you move on to your next milestone or new beginning. Speak to us if you need help in the following areas:
Mastering your job search strategy

Sharpening your resume and cover letter

Enhancing your digital portfolio

Acing your interview

Widening your professional networks

Career advisory and job placement

Planning for further study
NP ECG Playbook
Transiting from polytechnic to the world of work and adulting can be exciting, but as a new move, we know at times it can be daunting. Use this ECG Playbook to jumpstart your career or to explore further education opportunities. The Playbook provides useful information on taking the next steps towards achieving your career goals.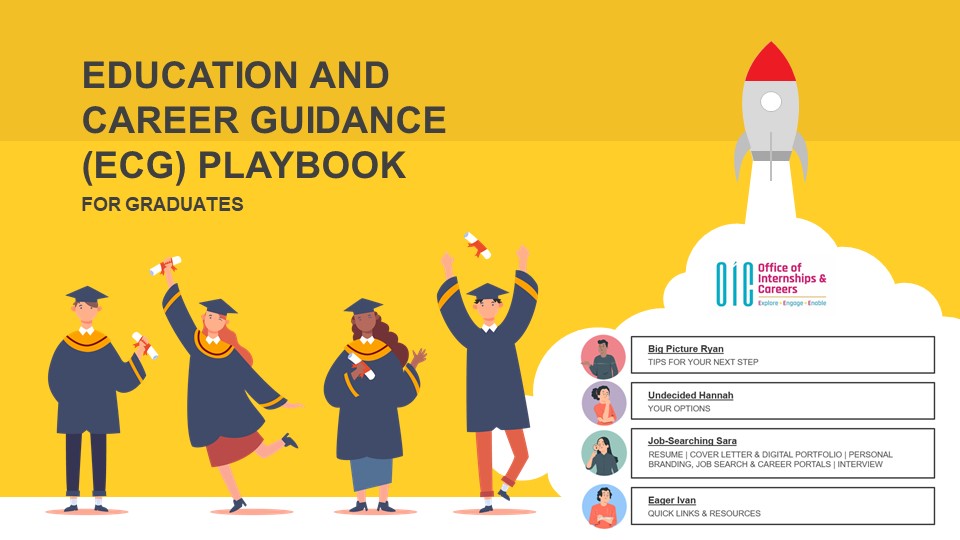 ---
Career Preparation Resources
For additional support, we have compiled a list of resources that will help you in your job search:
* NP students can access the LinkedIn Learning series on the NP Lien Ying Chow Library eResources page by clicking here. NP alumni can sign up for an account here to access the LinkedIn Learning series. The Lien Ying Chow Library offers membership at a subsidised rate for NP alumni.
---
Contact Us
career_services@np.edu.sg

Office of Immersion & Careers
Block 27, #01-18
535 Clementi Road Singapore 599489