Outreach Programmes
Experience the NP XTRA through our activities for Secondary School students and teachers.


NP hosts a range of programmes designed to familiarise secondary school students with life as a polytechnic student. These programmes will also help secondary school teachers gain deeper insights into polytechnic education.
If you are a secondary school teacher looking to prepare your students for an enriching poly education, check out our many programmes on this page. You are also welcome to contact us to discuss customised events.
---
Programmes for Students


Career Guidance, Talks & Exhibition
Based on your requests, we conduct online or in-person talks for secondary school students to find out more about our range of exciting courses. We can also introduce them to the various admissions exercises (EAE, PFP, JAE), how poly students learn, progression to universities, and career opportunities upon graduation, among others.


Upon request, we can also set up an exhibition booth at your secondary school, where our course counsellors can share career guidance information with students.


---
NP Key Events
Our specially organized events like Youth Leaders Camp, RED Camp and Open House aim to better integrate students into our campus and showcase the fun, vibrant and diverse student life that NP offers.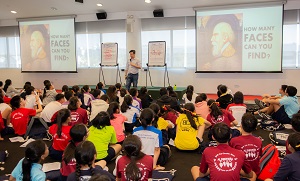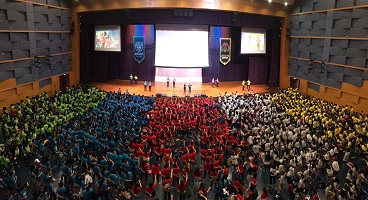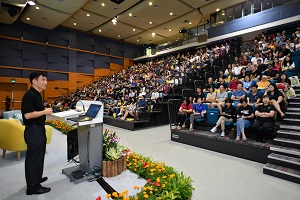 ---

Applied Learning Modules (ApLM)
Want to know what learning at NP is like? There's no better way than for students to experience this for themselves!

By participating in NP's ApLM programme – conducted on our campus by NP's team of dedicated lecturers – students will discover their personal strengths and interests, learn through hands-on activities, and get the opportunity to interact with industry experts!
---
Enrichment Programmes
Our wide range of enrichment programmes aim to expose students to different fields of study, helping them discover their interests and potential.
Events & Workshops by Interest

---
Programmes for Teachers

Teachers' Learning Journey
Our Teachers' Learning Journey includes an overview of post-secondary education options, information about various admission exercises, as well as insights into NP's signature pedagogies. Teachers get to experience our learning environment through guided tours and interact with our staff at the academic schools. We also host customised programmes upon request.

---
Frequently Asked Questions
Please contact us for other queries. We are always happy to help.
COURSES & ADMISSIONS:
This is not possible. Once a student has accepted the EAE offer and met the admissions criteria for the polytechnic course, he will not be able to switch to another course within or across polytechnics.

EAE is targeted at students who are interested in a particular course, and admission is based on the student's suitability. If your students are still discovering and/or developing their strengths and interests, they can apply through the JAE.

Yes, your student can still apply for a poly course through JAE. However, he can only accept either a polytechnic or a junior college offer. Students who accept both offers will be disqualified from both JAE and DSA unless they cancel one of the offers before the end of the Acceptance Stage.
The Polytechnic Foundation Programme (PFP) is a one-year programme specially designed for top Secondary 4 Normal (Academic) students. These students will not need to sit for the GCE 'O' Levels in Secondary 5.
Once enrolled into the PFP, students will gain provisional admission to specific diploma courses. Upon completion of the programme, students will be assessed before progressing to the diploma course.
The PFP offers a practice-oriented curriculum taught by the respective polytechnic faculty, which prepares them for entry into relevant diploma courses.
For more information, please visit the
PFP page
here.
They can approach our Education & Career Counselling team, who provides professional advice to students on education- and career-related matters.
For more information, please visit the Education & Career Counselling page
here
.
Although the courses are generally quite similar, there may be differences in the topics and electives, modules, or specialisation options offered. You can find out more about NP's courses through the course pages on our website.
Check out our courses
STUDENT DEVELOPMENT:
Start by helping your students discover their interests and aspirations. Encourage them to attend school programmes and events offered by the polys.

Poly education focuses heavily on practice-based learning and hands-on training, so it is important for students to be comfortable with such a learning style.

All polytechnics adopt the GPA system for grading, so your students need to be disciplined to maintain a consistent GPA throughout their three years of study.

NP aims to cultivate the following three hallmarks in all our graduates – a passionate learner, a big-hearted person and a global-smart professional.
Find more about NP
here
.
A poly education is about applying what is learnt in the classroom to real-world situations. NP students are exposed to various applied and experiential learning approaches that are technology-enabled.

Besides lectures, tutorials and workshops, students will take part in industry-based projects and workplace internships. Ranging from six weeks to six months, these internships allow students to put their learning into practice.

Yes. The overseas exposure could be an internship, immersion, exchange programme or community service trip.
Our CCA Clubs range from arts & culture, sports, special interest groups, to community service groups. There are more than 80 CCA Clubs to choose from.
Click
here
for a full listing of our CCA Clubs.
OUTREACH PROGRAMMES FOR STUDENTS:
We organise exclusive campus tours, talks and career exhibitions to help students gain insights into the courses that we offer. You can also register your students for specially designed enrichment programmes that allow them to experience how our students learn in NP!


FACILITIES AND SUPPORT:
NP promotes a culture of openness, understanding and mutual support to students with Special Education Needs (SEN). Click here for more information on the
range of support services
available.
There are vegetarian/halal food stalls at most of our canteens and food places.
We offer loan schemes such as the Tuition Fee Loan Scheme and Government Study Loan Scheme. In addition, we provide needy students with bursaries and study grants to help them with their educational expenses.
Click
here
to find out more about the bursaries and financial help available.
At NP, we are committed to develop our students who are academically strong, demonstrate leadership qualities and have diverse talents.
Click
here
for an overview of the scholarships available.
Contact Us
Please contact us if you have queries regarding our programmes. We are always happy to help!
Contact us