Paying it Forward: How Singapore's entrepreneur network can sow the seeds for tomorrow's brightest stars
27 Mar 2023
The following is a commentary piece by Ms Tan Ching Ching, Director of The Sandbox, Ngee Ann Polytechnic's innovation & entrepreneurship office.




In the face of a tumultuous past few years – from the global pandemic and economic slowdowns to simply how we go about our everyday lives – the entrepreneurial spirit in Asia is still very much alive.
In fact, the spirit continues to burn brighter than ever in our young, who increasingly seek to unravel new opportunities and ways of doing things to improve the lives of others in the community. According to an Economic Development Board report, Singapore alone, is home to more than 3,800 tech-enabled start-ups, fuelling a wider ecosystem worth over US$22.5 billion.
As we set new directions and ambitions for 2023, it is perhaps important for us to not only take stock of what start-ups today need to thrive, but also decide how best we can rally this growing ecosystem together to distil important resources to our aspiring entrepreneurs of tomorrow.
It takes a village to set the next-gen entrepreneurs up for success
It can be tough to navigate the start-up scene, especially in a day and age where consumers' needs, wants, and desires have shifted drastically from what they were a couple of years ago. The e-commerce and livestreaming boom as well as the rise in conscious consumption are just some of the many things fresh faces in the industry must now face.
Yet, despite the roadblocks ahead, they are not alone – and we must do our part to remind them of this. In my role leading Ngee Ann Polytechnic's (NP) Innovation and Entrepreneurship (I&E) office, The Sandbox, I have come across countless entrepreneur-alumni, who have made waves with their products and solutions, wanting to do more to uplift and empower the next generation of trailblazers.
This has set us and other passionate alumni – including Legatcy's Dennis Poh, serial entrepreneur Desmond Lee, and ASEAN Fintech Group's Douglas Gan – on a path to create the NP Angel Network, Singapore's first alumni-angel investment network for polytechnic students. This programme will see accomplished alumni entrepreneurs commit a minimum of $20,000 each as angel funders, with the final investment amount potentially increasing following the biannual pitches by students.
Today, the network has seen the contribution of over half a million to date, and continues to remain on track to bring together 30 alumni angel funders in the next two years. While aspiring entrepreneurs in the cohort can look forward to close guidance by the alumni angel funders, alumni can also pitch for the funds and gain support in the form of mentorship and industry connections. This is in addition to NP's other programmes like AGILE, Pollinate, Global Entrepreneurial Internship Programme, Kickstart Fund, Entrepreneurship First Steps, available to students and alumni.
Arming tomorrow's entrepreneurs with the tools to do good
While funding is undoubtedly important for start-ups to take flight, guidance is equally crucial in forgoing the right path ahead, especially with issues like sustainability and net-zero taking centre stage in the global agenda.
In other words, we must do more to breathe life into sustainopreneurship (i.e. innovation and entrepreneurship for sustainability), encouraging new players to pair their growth with green ideas that tackle issues pressing to the modern consumer, including overconsumption, carbon emissions, and waste management.
This laid the bricks for the creation of the NP X Carousell Sustainability Lab, a dedicated incubator space brought to the fore by alumni-entrepreneurs Marcus Tan and Quek Siu Rui. This three-year collaboration will give students access to Carousell's array of innovative solutions and products, including complimentary CarouBiz (Carousell for Business) accounts and predictive artificial intelligence to drive personalised and frictionless experiences for end-users.
As part of this mentorship programme, students will get the chance to collaborate with Carousell's specialists to re-imagine second-hand shopping experiences, develop high recall sustainability campaigns, and use data to forecast trends and develop sustainable e-commerce strategies.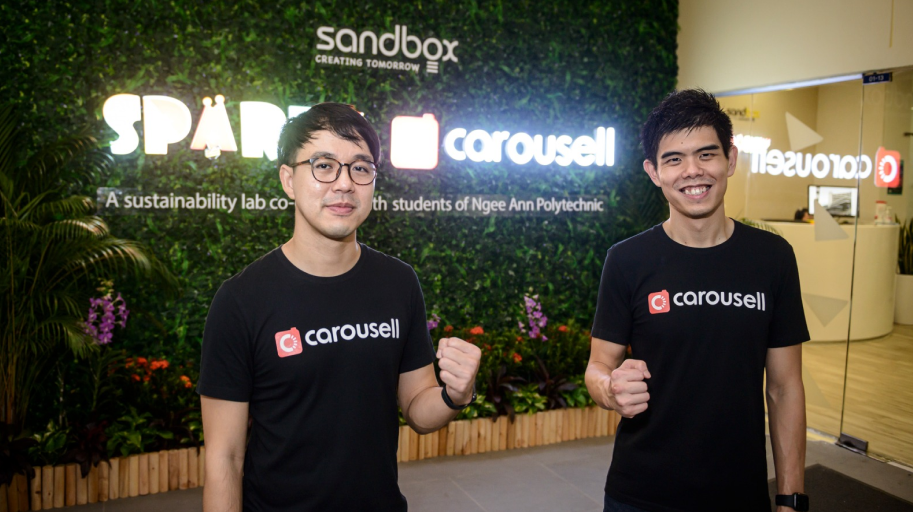 Paying it forward to build stronger start-up ecosystems for the future
These new initiatives – led by our very own alumni at NP – serve as great examples of how paying it forward in the start-up ecosystem can do wonders in not only protecting dreams, but bringing them to life, even amidst challenging periods. Together, we can build the network needed to chart a brighter future for new leaders, fresh ideas, and sustainable growth.
Interested students and up-and-coming entrepreneurs can learn more by visiting The Sandbox page here.
This article was originally published on e27. View the article here:
https://e27.co/how-singapores-entrepreneur-network-can-sow-the-seeds-for-tomorrows-brightest-stars-20230324/