Paying it forward
20 Nov 2022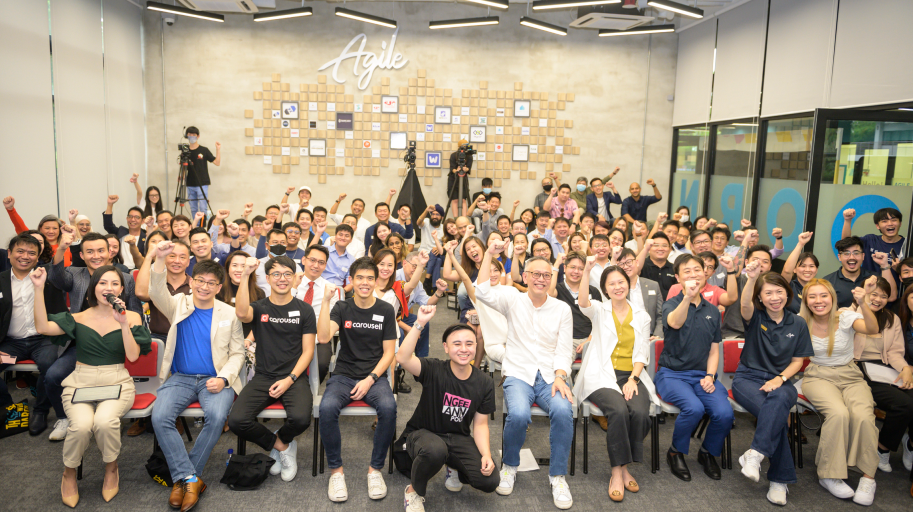 NP successful entrepreneurs return for a homecoming which also saw the launch of an NP Angel Network to support budding NP entrepreneurs.
Under the NP Angel Network, accomplished alumni entrepreneurs from Ngee Ann Polytechnic (NP) will commit a minimum of $20,000 each to help their fellow alumni who are keen on growing their businesses after graduating from NP.
The network's three founding members, who first met under the aegis of Agile, share why they want to start the network, and how their alma mater helped them kickstart their entrepreneurial journeys. Agile is a campus incubator space in Ngee Ann Polytechnic (NP) launched in collaboration with United Overseas Bank.


A brief bio of the founding members
| | |
| --- | --- |
| Desmond Lee, 49, graduated from NP with a Diploma in Business Studies in 1999. He started Freshdirect, a fresh fruit and vegetable distribution business, soon after and sold the business to a Japanese company in 2018. Since then, he has been helping to build start-ups such as e-commerce platform Eezee. | |
| | |
| --- | --- |
| | Dennis Poh, 34, who holds a Diploma in Accountancy from NP, is the founder of Legatcy, a business consultancy which provides C-suite support and corporate secretarial and accounting services for start-ups. He is also an entrepreneur-in-residence at The Sandbox, the Innovation & Entrepreneurship Office at NP. |
| | |
| --- | --- |
| Douglas Gan, 39, graduated with a Diploma in Information Technology (Computer Studies) from NP in 2003. The serial entrepreneur exited multiple tech companies, with his most recent ventures in ASEAN Fintech Group, a payments, lending and insurance fintech start-up and YouApp.ai, a Web3 compliant social matching platform. | |
Q&A
Q: Why did you want to start the Angel Network?
Desmond:
I wanted to give back to NP, which had supported me when I kick-started my career. I am also semi-retired now and would like to stay relevant to the world. Engaging with start-ups would allow me to put my experience into good use.
Dennis: I feel that since I am doing relatively well in my career, why not help my fellow schoolmates, my juniors. I always feel that all of us who graduated from NP have something aligned, that "something Xtra". I feel a kindred spirit with them.
Douglas: When I started on my entrepreneurial journey, I had no access to mentors and investors. I hope that, with the network, I can bring mentorship and investors closer to home for budding NP alumni entrepreneurs.
Q: How did NP support you to kick-start your career?
Desmond: When I started my fresh fruit and vegetable distribution business, my NP Business Studies lecturers provided me with the network of contacts and advice that I needed. I am grateful to them and to this day, we would still go out for lunch and chit chat. It was also in NP that I met many like-minded people, including two whom I started my distribution business with.
Dennis: I have always been proud to be an NP alumnus. I felt that the diploma in Accountancy that I gained in NP gave me a good career start. It landed me my first job with one of the four big law firms in Singapore.
Douglas: When I was studying in NP, I was already running my business. I had very supportive lecturers, who encouraged me to continue my business but not let it affect my studies. My classmates were also supportive and I even recruited a few of them to do part-time programming for my company.


Q: Any parting advice for budding entrepreneurs?
Desmond: Just have a go with it. For NP alumni, this is the best time because you have so much support now. The risk is lowest now when you are young. There's no perfect plan, just find the right company, jump into it and enjoy the ride.
Dennis: I would say that what forms me are not just my successes but my failures. Failures form some of the biggest lessons in my life and nurture me to where I am today. I would advise young entrepreneurs to accept failures and then just move on.
Douglas: Passion gives you unlimited freedom. So, do what you love, and be satisfied with whatever outcome it brings you.
Read more about the NP Angel Network.