Ngee Ann Poly and Carousell set up new incubator space
16 Nov 2022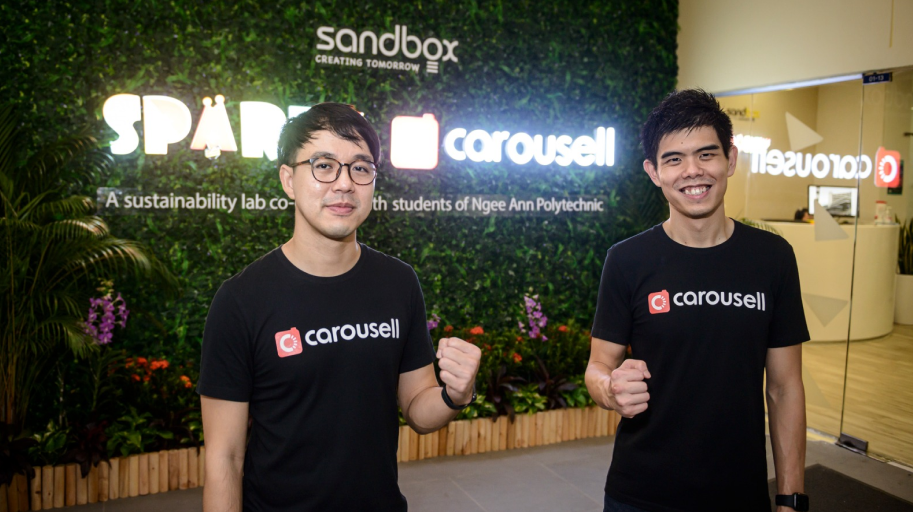 NP alumni and Carousell co-founders Marcus Tan (left) and Quek Siu Rui at NP x Carousell Sustainability Lab
A new incubator space at Blk 31, the NP x Carousell Sustainability Lab, will offer a testbed for Ngee Ann Polytechnic (NP) students to explore business ideas to contribute to the growing area of sustainability.
This partnership is Carousell's first formalised one with an Institute of Higher Learning. The three-year collaboration will give students access to Carousell's array of innovative solutions and products, including complimentary Carousell for Business (CarouBiz) accounts and business analytics reports that will give them insights to grow their sales.
More than 300 students are expected to use the facilities at the lab, which was officially launched by Minister of State for Education and Manpower Gan Siow Huang on 16 November.
NP's School of Business & Accountancy (BA) and its Innovation and Entrepreneurship Office, The Sandbox, will also work hand-in-hand with Carousell to further train students in sustainable e-commerce. This includes co-delivery and co-assessment of relevant modules, as well as industry immersion and mentorship for BA students and NP students taking the Entrepreneurship Pathway under
the Personalised Learning Pathway programme
. Students will also get the chance to collaborate with Carousell's technology specialists.
We talk to students who are looking forward to use this exciting new space on campus.

Year 1 Business Studies student who owns a start-up selling eco-friendly soaps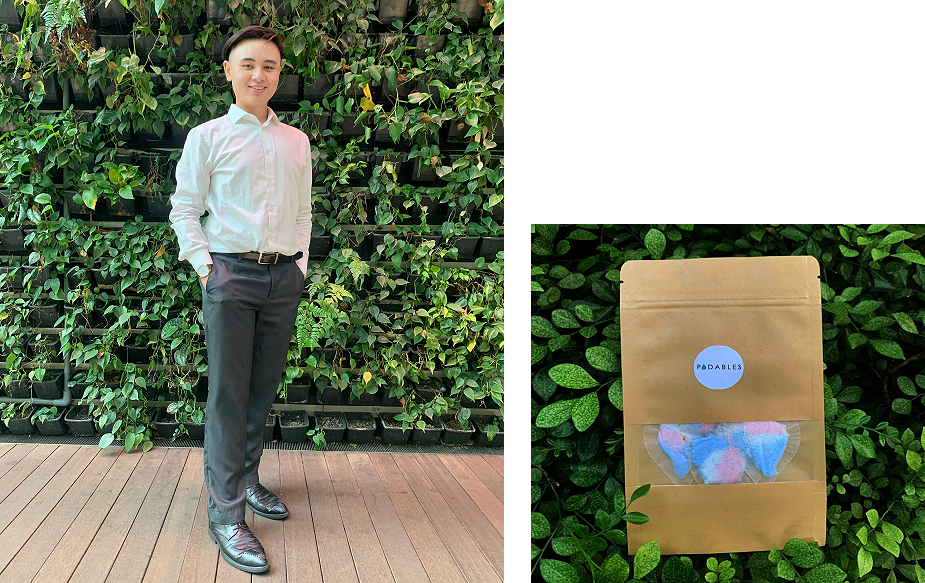 Perren Ong owns Podables, a start-up which sells eco-friendly soaps, each in the shape of a pod.
Having registered his business in December 2021, student entrepreneur Perren Ong is planning to sell his products – eco-friendly soaps each in the shape of a pod – on the market.
With the complimentary CarouBiz (Carousell for Business) account, he would be able to list and sell his products on the Carousell platform. The business analytics report will give him insights on how to grow his business.
He is also looking forward to having mentorship from key members of Carousell including its co-founders, Marcus and Siu Rui. Besides being highly inspired by these two successful NP alumni, Perren feels that Carousell's focus on sustainability is aligned with his company's and is keen to work with these industry professionals to learn from their experiences and grow his company into a multinational company one day.
Year 3 Business Digitalisation Track students who run the NP x Carousell Sustainability Lab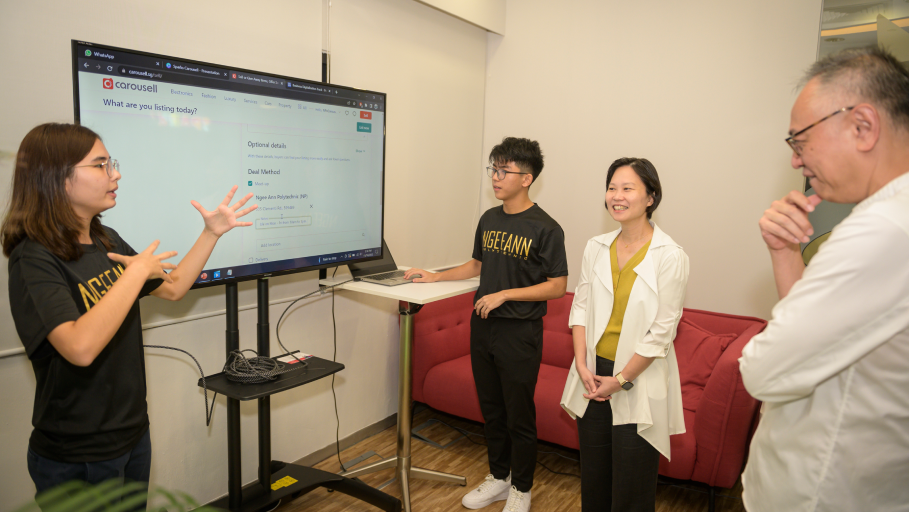 Students Claudia Tay (left) and James Lai explaining to MOS Gan Siow Huang and NP Principal & CEO Lim Kok Kiang how the Carousell platform works at the launch.
Claudia Tay, James Lai and a group of Year 3 students hope to use competencies they have gained in the Business Digitalisation Track, including digital commerce and marketing skills, to help run the NP x Carousell Sustainability Lab and promote sustainability among students and staff.
In the Business Digitalisation Track, final year students from the School of Business & Accountancy undergo digital skills competency training through company-based projects and internships to better prepare them for careers in related areas.
Since early November, Claudia, James and their team have set up an NP x Carousell account to put up preloved items donated by students and staff for sale.
With the complimentary Caroubiz account, they can use more advanced features for their marketing efforts, including listing as many as 150 items and 15 video listings. They can also use business analytics to gain insights into how to grow their sales, as well as a quick and auto reply function which allows them to enhance services for their clients.


Year 2 Mass Communication students, who are one of the recipients of the NP Kickstart Fund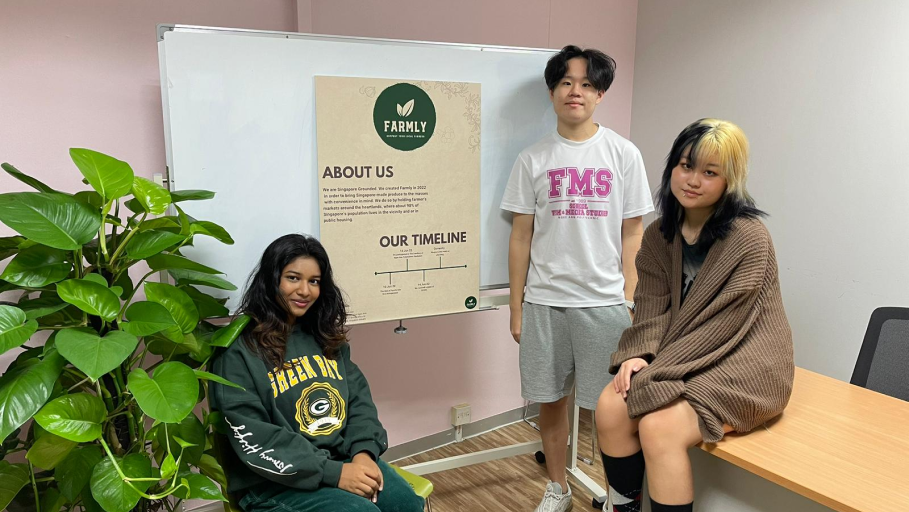 (From left) Preethika Saravanan, Ernest Yen and Sharlene Poh in their campus office.
As one of the recipients of the NP Kickstart Fund, Ernest Yen, Preethika Saravanan and Sharlene Poh received funding and business guidance from The Sandbox (TSB) to run their business called Farmly in 2022. Farmly aims to make Singapore-grown fresh produce such as vegetables and eggs accessible to more Singaporeans by organising farmers' markets near MRT stations for instance.
Like the other recipients of NP Kickstart Fund, the trio have secured one-year free rental of an office space at the new NP x Carousell Sustainability Lab.
Ernest said: "It provides a conducive spot for us to meet on campus to brainstorm ideas on how to grow our business. We also benefit from mentorship from TSB, who give us insights into managing a business. Being around other fellow Kickstart Fund recipients, winners of NP's Be Your Own Boss competition, and TSB Advocates is also inspiring for us!"