Design for good
30 Sep 2022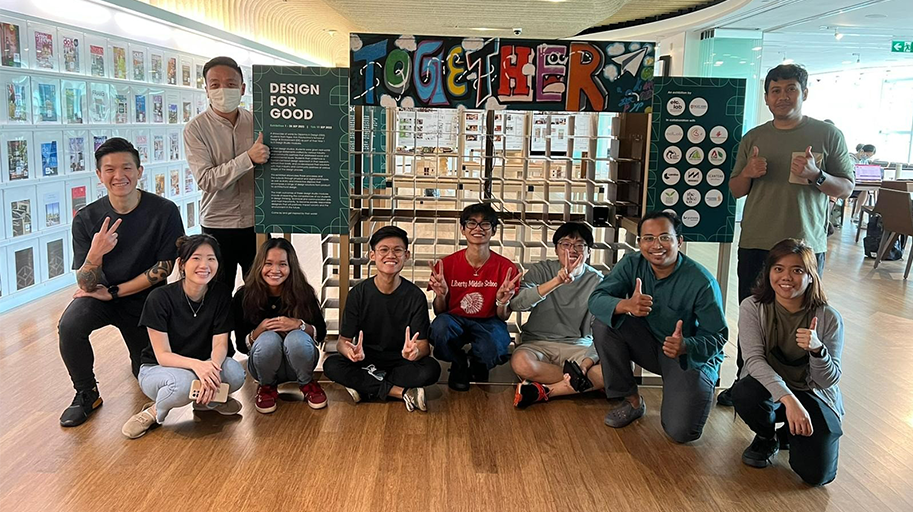 A public art installation by NP's Design students, seen here at the entrance of library@orchard.
As part of their design studio modules, Diploma in Design students from the School of Design & Environment (DE) in Ngee Ann Polytechnic (NP) have been working with industry and community partners to create good design out of unwanted items. Nine of these projects were exhibited at the Design for Good exhibition at library@orchard in September 2022.
Course chair Jason Khiang said: "The projects lived up to our diploma's vision that we will design for good, and that our designs will be driven by sustainability and powered by technology."
We showcase two outstanding projects here.
Project Circular

Nur Almira Putri Mohamad Azri re-imagined discarded wood (left) into the beautiful curves of a decorative container.

Lim Cai Qian repurposed discarded furniture (left) into a space-saving coffee table that can be separated into two working tables.

In Project Circular, a group of Year 2 Design students turned discarded furniture they collected from Choa Chu Kang residents into 35 pieces of commercial furniture. The project is a collaboration between DE and Choa Chu Kang Town Council (CCKTC).
In the design, prototyping and commercialisation of their products, the students were guided by experts from leading furniture store Scanteak. Nine of the furniture pieces were put up for sale at Scanteak's Toh Guah showroom, followed by the Tzu Chi Humanistic Youth Centre in March 2022.
Proceeds from the furniture sales were donated to CCKTC's Community Development Welfare Fund to fund green initiatives and underserved community needs. Project Circular was also captured by Mediacorp in a television episode on green economy under its CNA Green Plan campaign.
"Doing this project makes me more mindful to design products that last, to think about how the parts of the product I design can be further re-used if the product is to be discarded." - NP Design student Nur Almira Putri Mohamad Azri
Our DE Life
Our DE Life is a public art installation put together by a group of Year 2 Design students specialising in architecture. Its aim is to promote social interaction between members of the DE community. The students transformed unutilised laminate samples – from laminate brand Lamitak – Into a parametric installation that enhanced the foyer space in the School of Design & Environment. Polaroids capturing the students' school life also hung from various spots on the installation.
Year 2 Design student Ryan Tan said: "We have always used our school gallery to celebrate students' works, but this time round, we also wanted to celebrate our school life. Hence, we decided to put up polaroids of the memories that we have created in school."
Polaroids capturing the school life of the Design students were hung on the installation.
The installation, measuring 4m by 1.8m, was displayed at the School of DE. It was later repurposed by etc.lab, an interdisciplinary design and research centre in NP, for the Design for Good Exhibition, where it was placed at the entrance of the exhibition as a welcoming piece of wall. An interactive element was also added where different music was played when visitors placed their hands in front of different parts of the wall.
Read here for one more project featured in the Design for Good exhibition.