About
Helmed by our experienced lecturers and their dedicated and enthusiastic students from the Diploma in Optometry, the Ngee Ann Polytechnic Optometry Centre provides comprehensive eye care to the campus community and public at an affordable cost.
Services & Facilities


Complete Eye Care Services

The health of your eyes is of critical importance.
That is why NP Optometry Centre offers a wide range of professional eye care services to help you see your best.
Take an eye examination or let us assess your eyes for spectacles or contact lens prescription. We will also examine for any potentially sight-threatening conditions such as corneal ulcers, glaucoma, retinal diseases, and optic nerve disorders.
The general eye health examination (GE) is a comprehensive check of your eye that not only includes obtaining the prescription of your spectacles, but also ensuring that there are no abnormalities that require further investigations. If it is your first visit to the Optometry Centre, you will have to undergo the GE to obtain a baseline record of your eye health. Due to its comprehensive nature, the duration of the GE is typically between 90 minutes to 120 minutes. The eye tests that are typically performed during the GE are as follows:


| | |
| --- | --- |
| History Taking | Cover Test |
| Confrontation Fields | Pupils Test |
| Retinoscopy | Subjective Refraction |
| Slit Lamp Biomicroscopy | Ophthalmoscopy / Retinal Imaging |
| Tonometry | Management & Advice |
The student optometrist assists in the optometry lecturer to perform the eye tests for you. The optometry lecturer ensures that the eye tests are performed appropriately and accurately, and will repeat some critical tests.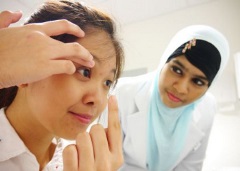 If you are interested in trying out contact lenses or you are having problems with your own contact lenses, talk to our student optometrists or optometry lecturers about having a contact lens consultation. The contact lens consultation begins with asking about your visual demands and lifestyle, followed by measurement of your corneal dimensions.


An examination of the health of the front of your eye ensures that you are suitable for contact lens wear. By integrating the information obtained from your input and the measurements, the student optometrist in consultation with the optometry lecturer will recommend the appropriate contact lens to be placed in your eye for trial fitting.


During the trial fitting process, the lens in your eye will be scrutinised for its movement, centration and coverage. At the end of the consultation, the most suitable lens will be prescribed for you. The duration of the consultation is between 90 minutes to 2 hours, depending on the number of lenses tried. The list of tests that are typically performed during a contact lens consultation is as follows:

| | |
| --- | --- |
| History Taking | Corneal Measurements |
| Anterior Eye Health Examination | Contact Lens Selection |
| Contact Lens Fit Assessment | Management & Advice |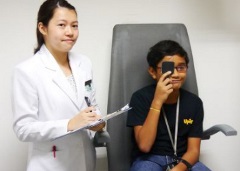 With the worsening problem of myopia (short-sightedness) in children, having an eye examination that is specially catered for your young ones is of particularly importance. Apart from examining and monitoring the changes in your child's eye power, other important aspects of the visual system is also examined. This include the ability to perceive depth (3D perception), colour vision, alignment of the eyes, focusing ability and accuracy, as well as the general eye health.


NP Optometry Centre is equipped with the Lenstar Ocular Biometer that can accurately measure the length of your child's eye. Since myopia progression is caused by the lengthening of the eyeball, the Lenstar will be able to consistently and objectively monitor the progression of your child's myopia. Do talk to our optometry lecturers who have special interest in children's vision, on controlling your child's myopia.


The list of tests that are typically performed during a contact lens consultation is as follows:

| | |
| --- | --- |
| History Taking (with Parents) | Vision Assessment |
| Colour Vision Test | Depth Perception Test |
| Ocular Alignment Test | Accommodation Test |
| Eye Health Assessment | Management & Advice |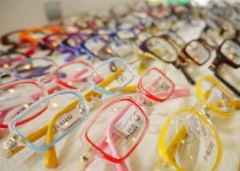 NP Optometry Centre carries a full range of spectacle frames for the young to the old. Children requires spectacle frames with appropriate sizes to ensure that they are looking through the lenses all the time. Individuals above 40 may require frames that can be used with progressive lenses to allow distance and near vision with the same pair of spectacles.


Rest assured, our staff will be able to advise you not just on your eye health, but also the appropriate type of spectacle lenses, and help to select the most suitable pair of spectacle frames for you.

Description
| | |
| --- | --- |
| Description | Fees |
| General Eye Examination | $5 (Public) |
| | $3 (NP Staff / Student) |
| General Follow-up | $5 / Waived if General Eye Exam performed within a year) |
| Paediatric Eye Examination (<16 years old) | $5 |
| Contact Lens Consultation | $5 / Waived if General Eye Exam performed within a year |
Request for Specific Test(s) / Printed Results
(Patient's own request, request from hospital, private clinic, etc.)

| | |
| --- | --- |
| Any Individual GE Test | $5 (Public) |
| | $3 (NP Staff / Student) |
| Autorefraction | $10 |
| Tonometry | $15 |
| Optical Coherence Tomography | $20 per eye |
| Retinal Photography | $20 per eye |
| Automated Visual Fields Test | $20 per eye |
| General Eye Examination Report | $20 |
Fees stated are correct at time of publication. NP Optometry Centre reserves the right to alter the fees prior to notice.




Comfortable Environment, State-of-the-Art Facilities
Go on a virtual tour of the Ngee Ann Polytechnic Optometry Centre and the rest of the School of Health Sciences' teaching facilities.
The inviting and comfortable waiting area with spectacle frames and sunglasses on display.
Our friendly student optometrists will assist you to try on any products.
Each of our 10 consultation rooms is fully equipped with up-to-date ophthalmic equipment.
A geriatric consultation room and a paediatric consultation room are also available.
Retinal Imaging Facilities
Optos Ultra Widefield Retinal Imaging
NP Optometry Centre is the only optometric practice in Singapore that is equipped with the Optos system, which is capable of imaging up to 200 degrees of your retina without the need for pupil dilation.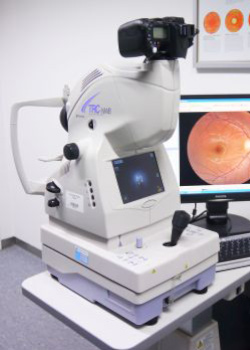 Retinal Photography

A photo of the retina allows your optometrist to see your retinal structures and learn more about your eye.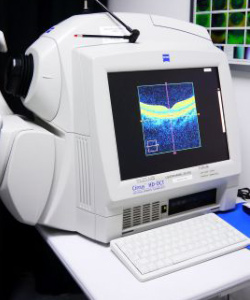 Cirrus HD Ocular Coherence Tomography (OCT)
The OCT is an advanced retinal imaging system that is capable of producing 3 dimensional images of your retina. It is used in the detection and diagnosis of age-related macular degeneration, epiretinal membranes, and other retinal disorders.

Visual Fields Analysers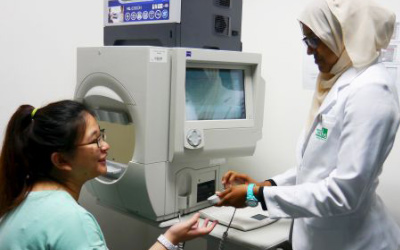 Humphrey Visual Field (HVF) Analyser

The gold standard in analysing the depth and the extent of the field of vision, the HVF analyser helps in the detection and diagnosis of glaucoma and other optic nerve diseases.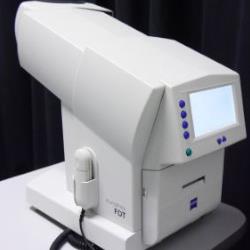 FDT Visual Fields Analyser

The FDT is capable of performing visual fields analysis under two minutes for each eye. It is helpful in patients who have difficulty concentrating during visual fields analysis. In addition, the FDT is a very effective screening tool for glaucoma.
Ocular Measurements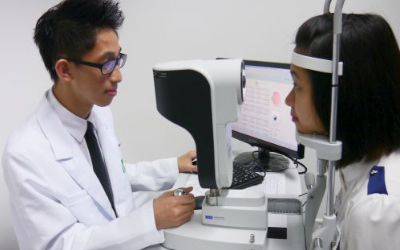 Lenstar Ocular Biometry

The Lenstar is useful in monitoring the progression of myopia as it provides precise, consistent and objective measurements of your corneal thickness, crystalline lens, vitreous chamber, and the length of your eye.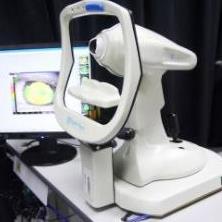 Corneal Topography

The corneal topographer provides information of the shape of the cornea that can help the optometrist choose a suitable contact lenses for you. It is also used in the diagnosis of corneal abnormalities such as keratoconus and pellucid marginal degeneration.

Tonometers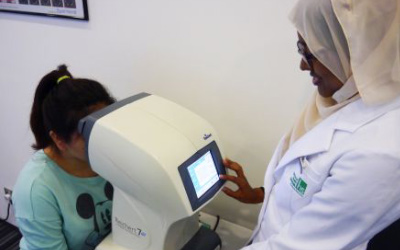 Non Contact Tonometry with CR Technology

Besides measuring the pressure of the eye using the airpuff technique, this tonometer provides additional information that helps in the analysis for the risk of developing glaucoma.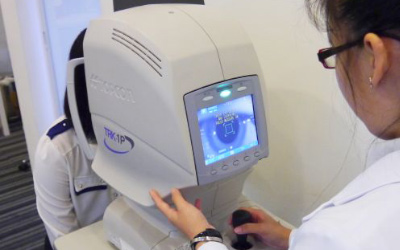 Topcon 4-in-1 System

The Topcon 4-in-1 system is capable of performing obtaining autorefraction (power of the eye), autokeratometry (curvature of the cornea), pachymetry (thickness of the cornea), and airpuff tonometry (pressure of the eye). This system aids in the assessment of the risk of developing glaucoma.
News & Events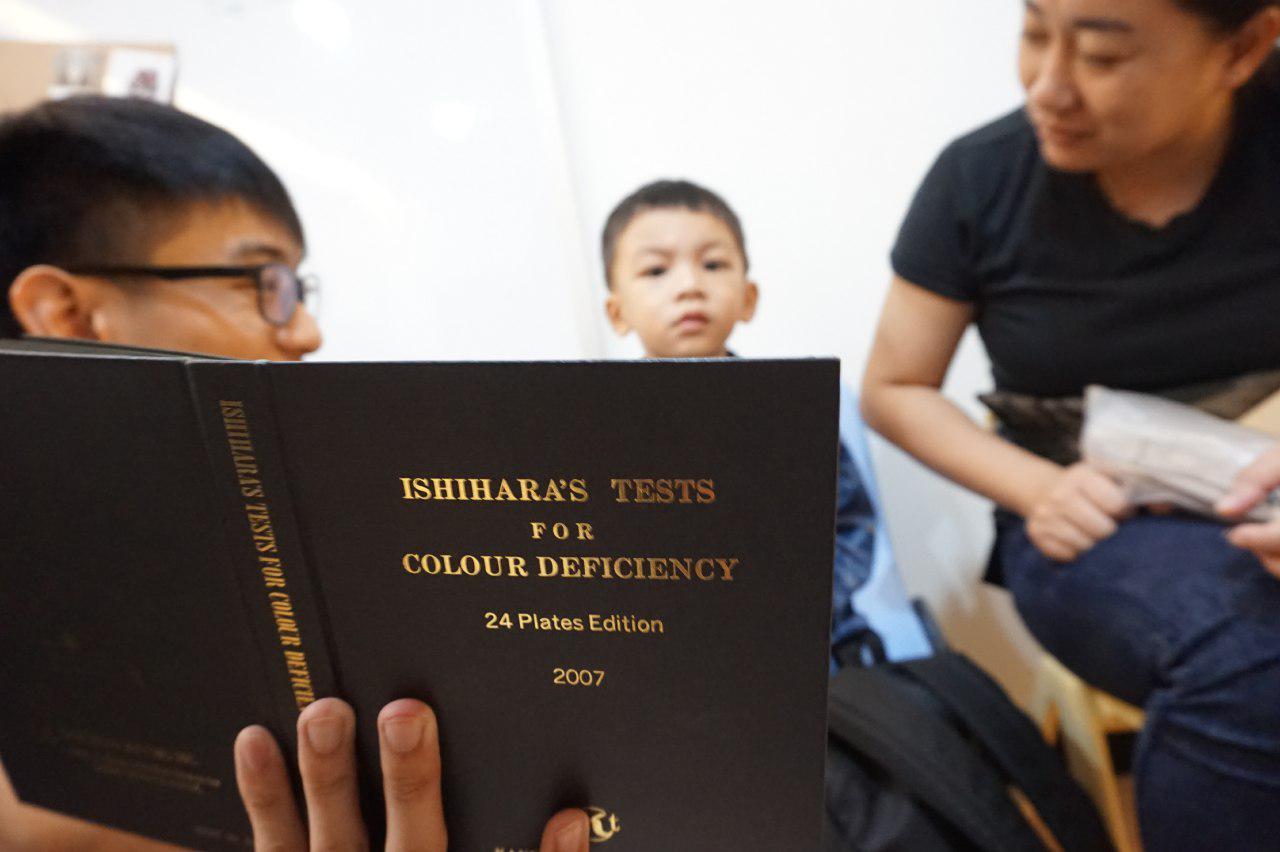 Giving Back at SPD
3 Dec 2016​
Caterpillar's Cove Paediatric Eye Screening
Caterpillar's Cove Paediatric Eye Screening
25 Nov 2016​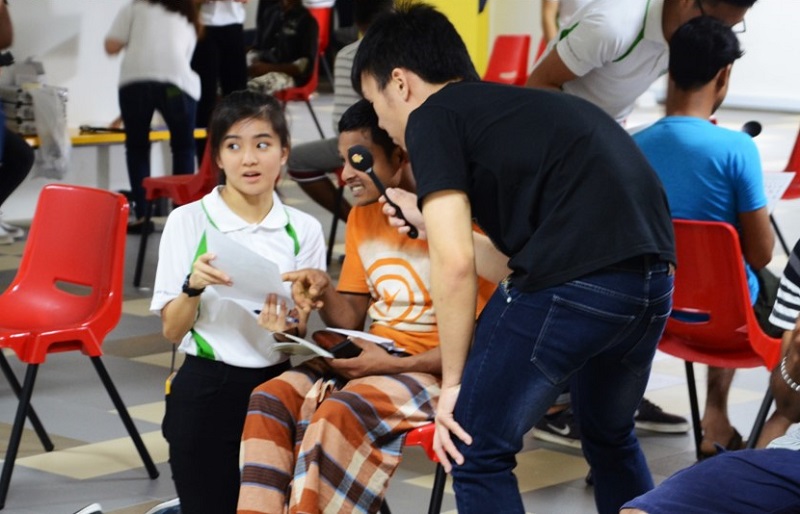 Westlite Papan Dormitory Eye Screening
6 Nov 2016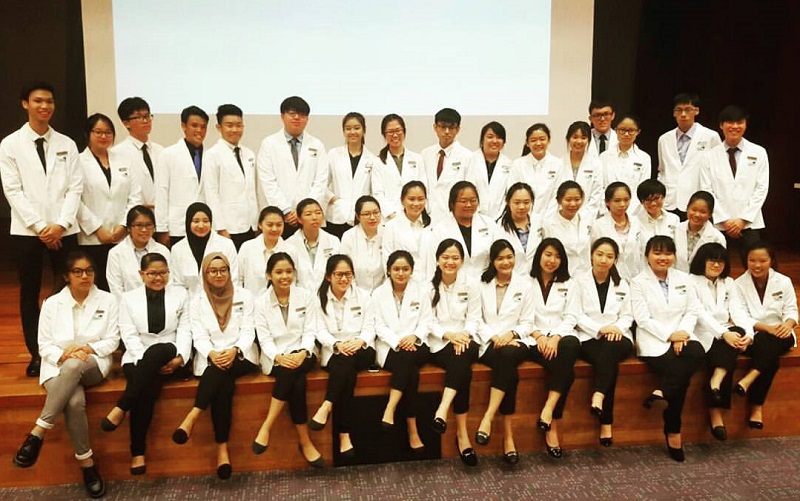 White Coat Ceremony
15 Oct 2016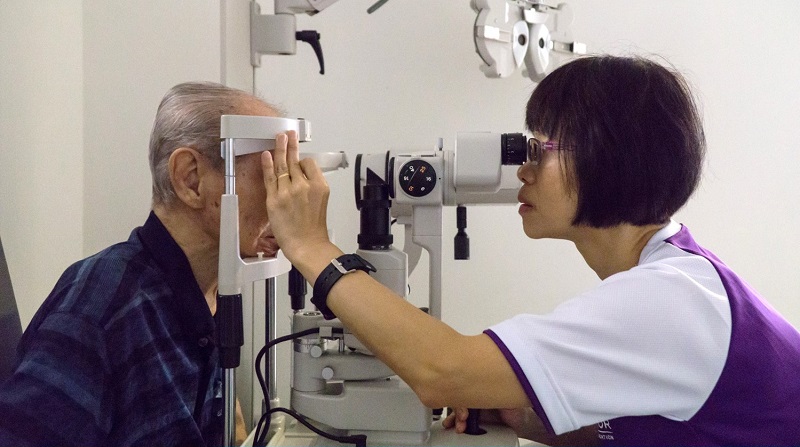 World Sight Day
13 Oct 2016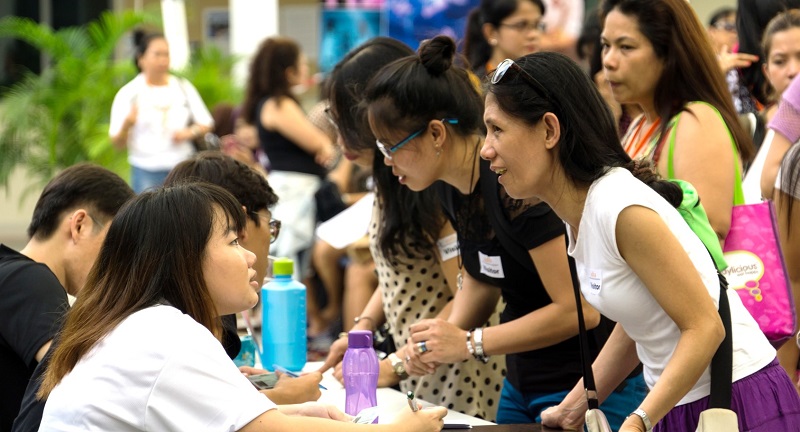 Eye Screening at United World College
2 Oct 2016​​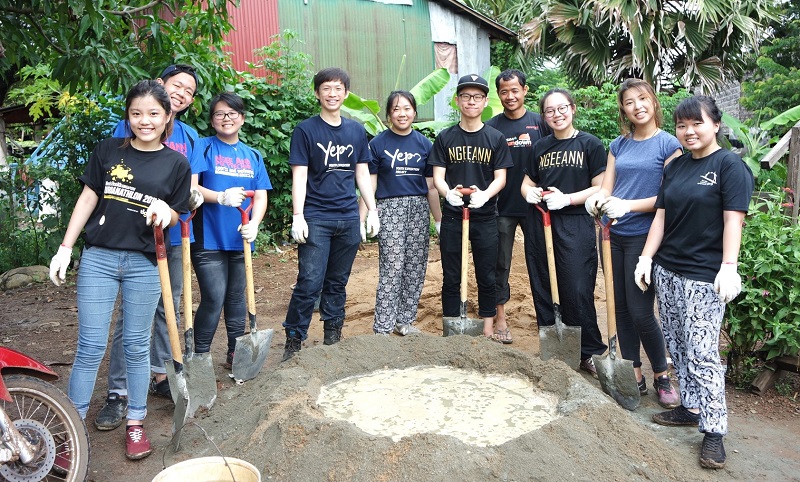 Youth Expedition Project (YEP) Cambodia 2016
2016
Contact Us
Optometry Centre | Block 6, Level 1
Ngee Ann Polytechnic
535 Clementi Road Singapore 599489

(+65) 6460 7716 or Email: npoc@np.edu.sg
Closed on Saturdays, Sundays, Public Holidays and during school vacation.
Eye examination will be strictly by appointments, and walk-in is not encouraged.
Appointments are subjected to availability.
Ms Coreen Siah| Senior Manager (Optometry Centre)
SIAH_Kwee_Hong@np.edu.sg

Ms Farah N Bounaparte | Manager (Optometry Centre)

Ms Grace Siah | Senior Executive, Technical (Optometry Centre)