Peer support with a difference
29 Sep 2022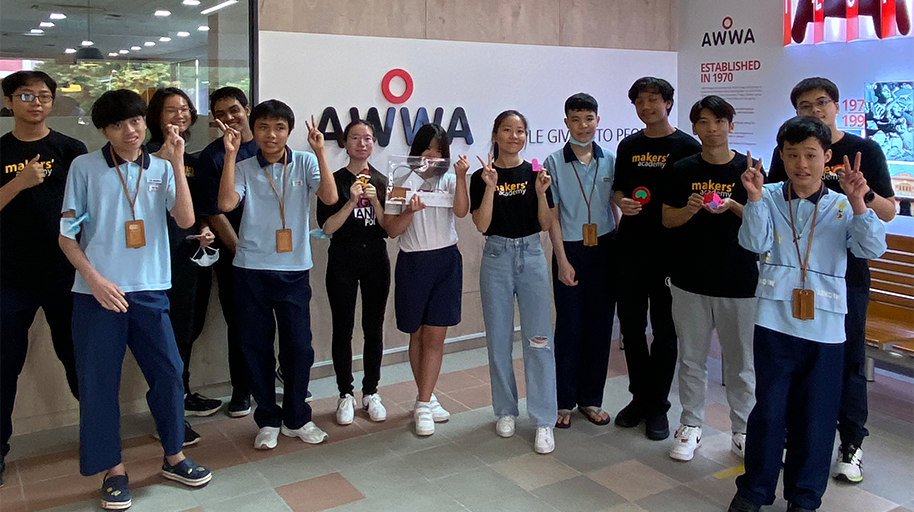 Students from NP with their trainees from AWWA and their handcrafted leather goods and tokens of appreciation.
During her semester break, Year 2 Business Studies student Soh Wan Yu would usually be involved in a co-curricular activity or pursuing a part-time stint.
But last August, she decided to do something different. Together with another student, Demetria Tay from the Diploma in Arts Business Management, she helped equip Yvette, a teenager with special needs from social service agency AWWA, with leathercrafting skills. Specifically, she taught her how to make a leather lanyard and a key strap.
Wan Yu and Demetria were part of a team of students who have been trained in leathercrafting skills by the Makers' Academy, the prototyping lab of The SandBox (TSB), the Innovation & Entrepreneurship Office at Ngee Ann Poly. As part of the lab's MILES (Make. Impart. Learn. Explore. Serve.) community outreach programme, the students then imparted these skills to AWWA students in a six-hour workshop held over three days. To allow AWWA students to engage in the task more effectively and independently, the Makers' Academy created special tools for them.
What made the workshop meaningful for many of the NP students, who were part of the TSB Advocates, was that they had the opportunity to interact with and impart a useful skill to the AWWA students. Leathercrafting is part of the vocational training for students carried out by AWWA.
For Wan Yu and Demetria, it was their first time interacting with students with special needs and they found the experience refreshing and rewarding.
Wan Yu said: "Yvette learnt very fast and she clearly enjoyed doing leathercrafting. Her enjoyment was very infectious!"
Demetria added that the experience taught her never to underestimate a person's capability based on their disability.
She said: "Most of the students were very independent and stayed focused throughout the entire workshop."
| | |
| --- | --- |
| | Business Studies' student Soh Wan Yu (right) and Arts Business Management student Demetria Tay (left) with AWWA student, Yvette. |
To show their appreciation, some AWWA students who completed their leather pieces ahead of others even made small bead crafts and gifted them to their NP trainers.
TSB Makers' Academy is in talks with AWWA for another workshop, and it also plans to work with other partners to host similar programmes in future.