From poly to medical school
15 Aug 2022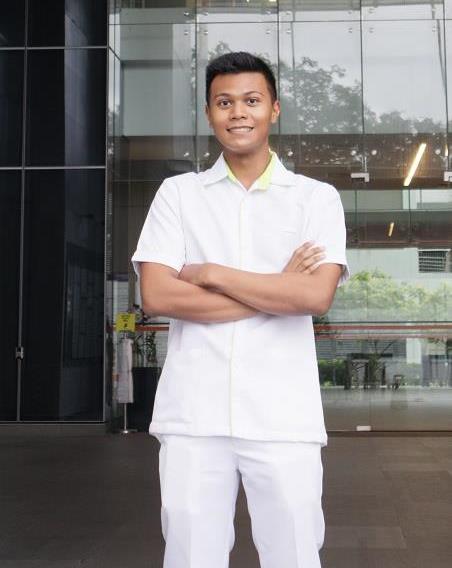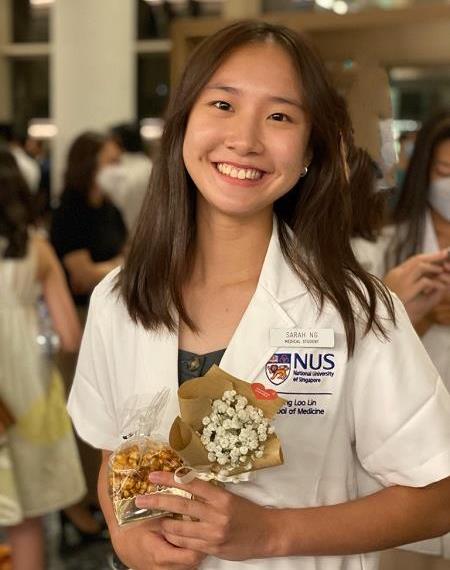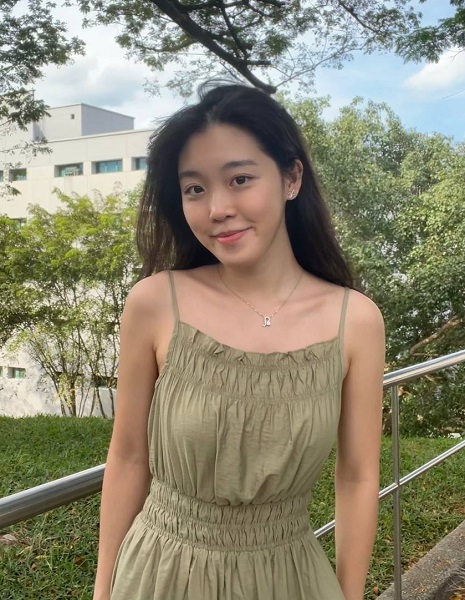 (From left) Nursing student Muhammad Afiq, Biomedical Science student Sarah Ng and Pharmaceutical Science student Claudia Heng.
Muhammad Afiq Nabil Bin Atiman and Natalie Kui from the School of Health Sciences blazed a trail by being the first two nursing graduates from Ngee Ann Polytechnic (NP) to be offered places in NUS Yong Loo Lin School of Medicine this year. Eight students from the School of Life Sciences & Chemical Technology also made it to the same medical school. They are Biomedical Science graduates, Sarah Ng Li Xin, Zenia Tan Yan Ru, Audrey Tan, Vincent Chen Sixian and Benjamin Koh Wei Feng, and Pharmaceutical Science students Michelle Yeo Sui Lyn, Choo Hui Min and Claudia Heng. We profile three of them.


Muhammad Afiq Nabil Bin Atiman, Class of 2021, Diploma in Nursing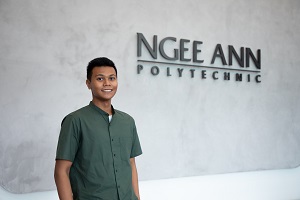 Aspiring to be a compassionate doctor

During his studies in nursing at Ngee Ann Polytechnic (NP), Muhammad Afiq Nabil Atiman had attachment stints at three hospitals and was exposed to various aspects of healthcare. Although taking care of patients is something close to his heart, he wants to do more than just that.
He said: "During my attachments, I had observed doctors perform different procedures and even minor surgeries. This exposure made me want to delve further into the study of medicine."
However, his first application to Yong Loo Lin School of Medicine at the National University of Singapore (NUS) was not successful. He did not give up and succeeded on his second try.
His interest in healthcare was first sparked when he saw the dedication of doctors and nurses in caring for his younger brother when he was hospitalised. His brother, now 17, suffered from cerebral palsy, and Afiq helps care for him in between his commitments.
He said he chose nursing at NP specifically for its curriculum, which not only gave him hands-on practice in real-world environments, but also offered him many research opportunities.
"I was exposed to research from as early as Year 1. In my final year, I even got to work on a group research project on the mental resilience of students and staff at the polytechnic during the Covid-19 pandemic."
He also appreciates the opportunity to take Mandarin classes under NP's Diploma Plus programme, which turned out to be useful during his clinical attachments, as he was able to converse in basic Mandarin to his patients.
Despite having to balance his time between different commitments, Afiq excelled in his studies.
Last year, he was awarded the annual SATA CommHealth graduation prize for topping the cohort for the Research Project module. He also received the NP Merit Award in 2018 and was on the Director's List for four consecutive semesters in 2018 and 2019 for his academic achievements.
His experience as a nurse has given him a bigger picture of how the healthcare system works, and he hopes to specialise in preventive medicine in future. His aim is to be a kind and compassionate doctor, having been inspired by his NP lecturer, Ms Hazel Lim Wai Ling, to be a better person.
He recalled that how Ms Lim would often go the extra mile to coach Afiq and his classmates on their schoolwork when they could not grasp research concepts in her classes.
He said: "I hope to emulate the same kindness and patience she showed me for my patients in future."


Sarah Ng, Class of 2022, Diploma in Biomedical Science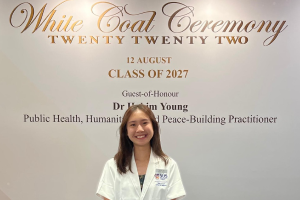 Pandemic set her on the path of biomedical research

Sarah first learned about NP's Biomedical Science (BMS) course offering through an organised visit to NP by her secondary school. Impressed by the rigorous and broad-based curriculum, she continued to do further research on the course, and found that NP's BMS had a dedicated focus on the sciences, which was her strength.

Over the course of her studies at NP, however, her family ran into challenges in funding her polytechnic education. Thankfully, she was able to eventually complete her poly studies with the support of NP, which helped her secure the MOE Bursary scheme, yearly government bursaries, as well as utilise the remaining funds in her Post-Secondary Education Account account.

Throughout her poly years, she was motivated to work hard and excel in her studies so that she could ease her parents' worries.

She also cultivated an interest in biomedical research and ended up applying successfully to medical school.

It was the six-month internship at AMILI, a precision gut microbiome company founded by academic doctors and scientists, in her final year of studies that sealed her interest in medicine and clinical research.

There, she met healthcare workers whose insights and experiences helped to widen her perspectives not only in the research sector but the healthcare sector as well.

"They were one of the main reasons why I was inspired to apply for medicine at NUS," she said.

She also appreciated the tips and advice that they gave her to help her nail the reputedly tough medicine admission process, as well as the experiences and opportunities the company gave her to build her portfolio.

Her NP lecturers, Dr Lau Quek Choon and Dr Teoh Kim Tat, also helped her with her personal statement, portfolio and interview preparation.

The entire application process forced her to self-reflect and confirm her passion for her chosen vocation.

Ultimately, she hopes that the medical degree would allow her to become a clinical researcher, particularly in the field of skin care and eczema, and provide her with more pathways than a regular research degree would.

She added: "It is also a route that would let me interact more with patients, which I personally find very fulfilling."


Claudia Heng, Class of 2022, Diploma in Pharmaceutical Science

Making a difference through medicine

It was curiosity and the desire to take up a challenge which first sent Pharmaceutical Science graduate Claudia Heng down the path towards a degree in medicine at the NUS Yong Loo Lin School of Medicine.

Initially uncertain about her future, her final-year internship as a pharmacy technician at Singapore General Hospital got her curious about the medical field.

She recalled: "As I interacted with patients while dispensing medication and checking their medication orders, I found myself yearning to find out more about their symptoms and diagnosis."

Coupled with an interest in the human anatomy and physiology, she believed that being a doctor would provide her a sense of satisfaction unlike any other field.

One of her greatest inspirations came from her lecturer Ms Cecilia Chua, whose passion for teaching and concern for her students' well-being, encouraged Claudia to take up the challenge and pursue her interest in medicine. Hands-on modules taught by Ms Cecilia also gave Claudia the chance to develop her soft skills and build her competencies in counselling and patient interaction.

Despite medicine being a content-heavy degree, she said that a large part of being a doctor involves active listening and communication with patients and other healthcare professionals, so soft skills such as teamwork and empathy are also areas valued by the industry.

She said: "I believe in the saying – if you want to go fast, go alone; if you want to go far, go together."

As such, Claudia hopes to encourage her fellow peers to strive not only for good grades but also to show empathy, humility and the ambition to learn.

As for herself, she is looking forward to learning about the different specialties of medicine and finding out where her interest lies.