Dream career from nurse to doctor
13 Aug 2022 | Berita Harian
Synopsis: During his studies in Nursing at Ngee Ann Polytechnic (NP), Muhammad Afiq Nabil Atiman was exposed to various departments in the hospital. Although taking care of patients is something close to his heart, he wants to do more than that. The Diploma in Nursing graduate will continue his studies in medicine soon. He made history as the first nursing graduate from NP to successfully enter the Yong Loo Lin School of Medicine at the National University of Singapore (NUS). When asked why he chose medicine, Afiq said it was an opportunity he couldn't pass up. However, he agreed that the opportunity did not come easily. He needed to submit two applications to the NUS Yong Loo Lin School of Medicine.

Afiq who was previously offered the nursing program at NUS last year said his interest in the medical field sparked when he saw the dedication of doctors and nurses in caring for his younger brother who suffered from cerebral palsy. Now, he also helps take care of his younger brother.

Despite having to balance time between the demands of school and taking care of his younger brother, it never stopped Afiq from achieving excellence. In 2018, he was the recipient of the NP Merit Award. In addition to that, he was also on the Directors' List for four consecutive semesters in 2018 and 2019 following his impressive academic achievements. Last year, he was awarded the SATA CommHealth annual graduation prize after being ranked highest among his cohort for the Research Project module.

His achievements continue to fuel his passion. He hopes to get into preventive medicine. Although he still have a lot to learn, Afiq is very happy to be given the opportunity. He hopes to be an inspiration to the young people in the community to not be afraid to step into this field. Afiq who will start the program next year, wants to be a doctor who can contribute back to society.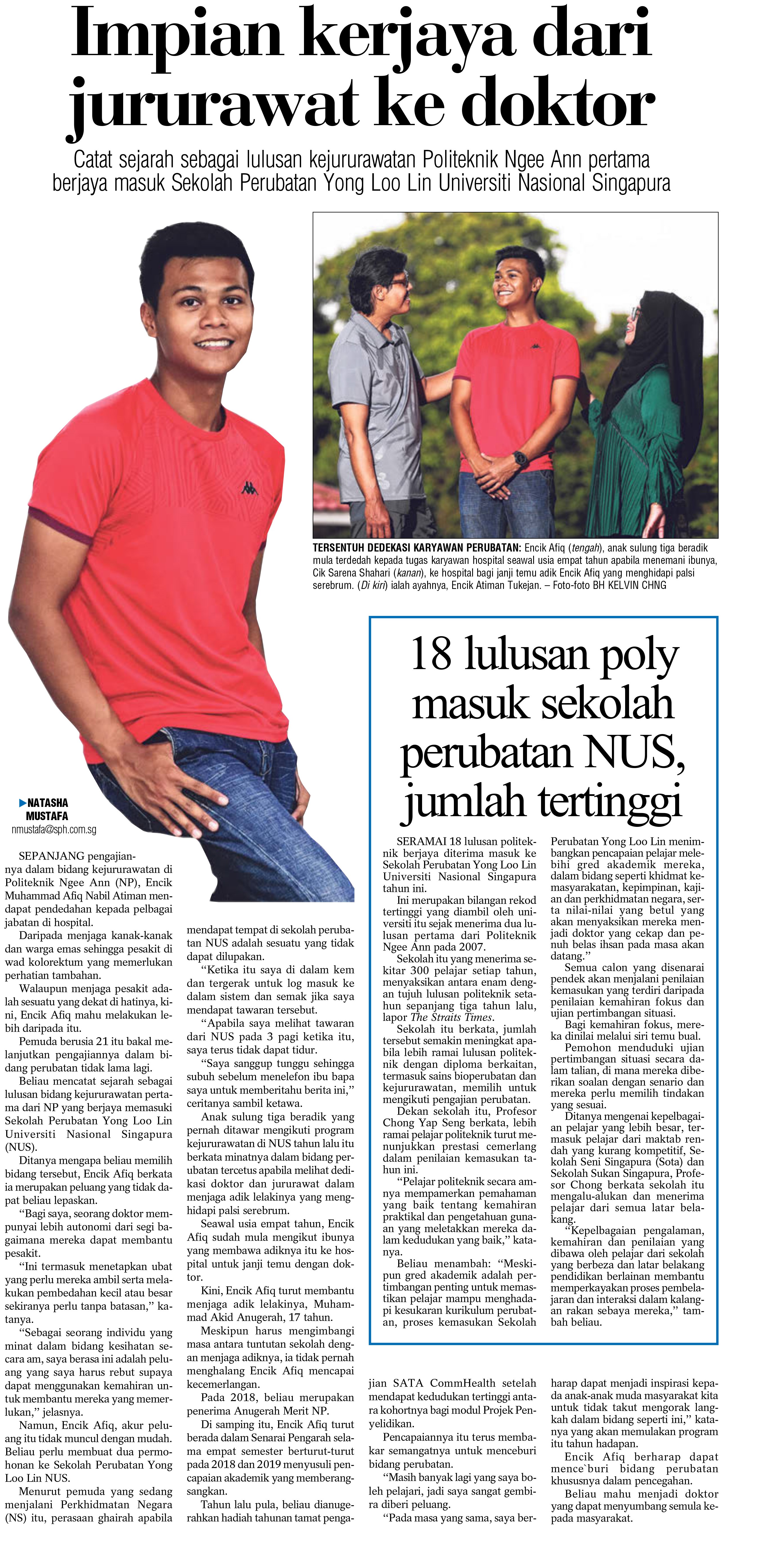 Berita Harian © Singapore Press Holdings Limited. Reproduced with permission.