RWS adopts sustainable tourism solutions proposed by NP students
18 Oct 2022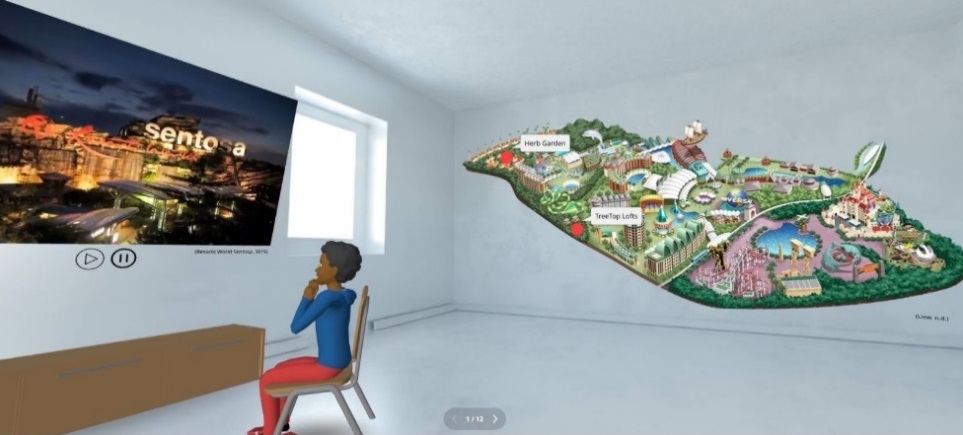 NP Virtual World featuring RWS sustainability features.

Out of the 11 sustainable tourism solutions proposed by Tourism & Resort Management students, Resorts World Sentosa (RWS) has adopted three for its sustainability campaigns. We showcase the winning proposals.

First prize: Say No! to Food Waste
Team members: Kerwin Koh, Leif Swee, Lim Shu Yan, Nur Assayyidah A'isyah Zakaria, Nurul Izzati Abdul Rashid and Raghnall Tho
Inspired by MasterChef Singapore and concerned about the growing problem of food waste, Kerwin and his team proposed a campaign to raise awareness about food waste for RWS' staff.
The team proposed a multi-pronged approach of spreading the message of reducing food waste: through posters put up in a staff canteen as well as via NP Virtual World, which is accessible by RWS' staff.
Another idea is to hold an onsite campaign at RWS staff canteen, where staff will be invited to take part in onsite interactive games to learn about reducing food waste in a fun manner. There could also potentially be a display of food waste accumulated in the staff canteen to drive home the message of saying no to food waste.
The team's proposal was commended by RWS who chose it for "the team's strong commitment and efforts to go the extra mile in understanding RWS' objectives and target audience".
1st runner-up - Champs of Sustainability
Team members: Ashley Pok, Celeste Ang, Chan Jolene, Jude Kuah, Lai Zhau Ting and Poong Chae Won
With the growing popularity of TikTok as a social media platform for teenagers, the team came up with the idea of a TikTok Challenge for secondary three students, to encourage them to take videos of themselves performing sustainable actions such as upcycling used products and posting them on TikTok. The top three winners will get prizes sponsored by RWS.
The team also created content on the NP Virtual World platform for the secondary school students to do their own self-paced learning on the sustainability elements at RWS.
Secondary school students can log in to the digital learning platform called NP Virtual World at their own time to access learning materials on sustainability and also to take a tour of the RWS sustainability sites before they take part in the TikTok challenge.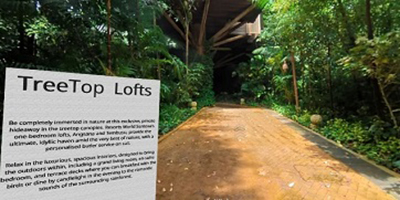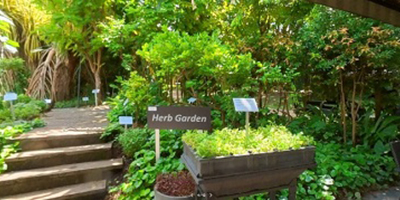 Screen grabs of the virtual sustainability tour at RWS.
The students took 360-degree photos of sustainability sites at RWS which they then re-created on NP Virtual World to allow secondary school students to have an immersive learning experience.
RWS said the group's proposal stood out for its "potential impact and reach of their idea, and the effort undertaken to understand the company's circumstances". If successful, the TikTok Challenge can be extended to students from junior colleges and other institutes of higher learning.
2nd runner-up - RWS Sustainability Tour goes Digital!

Team members: Inez Khoo, Agnes Chua, Tan Xin Tong, Jasper Loke, Tang Xuan Wen, Ekka Mutiara Ayeshah Binti Abdullah
Inspired by the sustainability tour they embarked on at RWS, the team proposed bringing the experience online for RWS guests. Through the virtual tours – created using 360-degree photos taken at various RWS sites – the team hopes to raise awareness about the sustainable practices at these sites and encourage guests to practise sustainability on their own. For instance, by clicking on an icon at the virtual Herb Garden, RWS guests can learn more about the various herbs and their uses.
RWS said the team was chosen for their "clarity of the idea, combined with the practical feasibility of implementation".
Read
more
on the sustainability programme that RWS has with TRM students.