Annual Report 2022/2023
---
Highlights of the Year
We provide our learners with a wide range of enriching experiences and industry-relevant learning, equipping them with the skills they need to seize opportunities in an evolving industry landscape.
---
April 2022
The School of Business & Accountancy (BA) partnered Johnson & Johnson (J&J) Singapore to launch the first-ever omni-channel Experience Centre on campus. Equipped with innovative retail technologies such as the POP6 cloud-based point-of-purchase execution solution and a live-streaming set-up, the Johnson & Johnson Experience Centre (JJEC) is set to benefit more than 500 students. Launched on 13 April, the JJEC is both a learning facility and a physical store where students will get to experiment with Online-to-Offline strategies to complement the running of a brick-and-mortar store and deliver a seamless 'phygital' customer experience. J&J will also provide mentorship and real-life scenarios for projects to help BA students learn how to use data to develop effective marketing plans.


Minister of State for Trade and Industry, and Culture, Community and Youth, Ms Low Yen Ling (middle), with President of Johnson & Johnson Southeast Asia, Mr Jan Meurer (left) and NP Principal & CEO Mr Lim Kok Kiang (right) at the launch of the JJEC.
---
June 2022
NP signed a Memorandum of Understanding on 2 June with Grundfos, a global leader in advanced pump solutions and water technology. Under a three-year partnership, NP and Grundfos will jointly develop smart sustainable solutions for Southeast Asia's built environment and drive initiatives focusing on UN Sustainability Development Goals. NP and Grundfos will also promote smart sustainability in the building industry through joint projects, events, and training initiatives, while growing the talent pipeline through mentorship, internships, student projects, and annual book prizes for the School of Design & Environment.



From left: Grundfos Head of Sales Development Mr Chris Tham, Grundfos Thailand Sales Manager Mr Atthapol Leekulwong, NP Director of Environmental & Water Technology Centre of Innovation (EWTCOI) Mr Jason Tang, Grundfos Regional Managing Director (APAC, Commercial Buildings) Mr Kenth Hvid Nielson, and Grundfos Area Managing Director (South Asia Commercial Building Services) Mr Tan Chee Meng.

The School of Design & Environment signed a Memorandum of Understanding with software and deep tech solutions provider LeapThought on 24 June to co-develop and co-deliver an Integrated Digital Delivery curriculum, aimed at training Diploma in Design students to use digital technologies to integrate work processes in the built environment sector. LeapThought will also provide educational licenses for students to use its construction management platform, and offer internships and potential employment opportunities. During the internship, students gained valuable exposure to digital transformation in the built environment space.



Final-year Design students Clarence Chew, Kendria Ng, and Izzat Faris Iwa Karsana did their internship with LeapThought from August to November 2022.
---
August 2022
Graduating students whose first two years of campus life had been impacted by the pandemic were treated to Gradfest 2022 from August till November. The series of campus-wide and school-based fun activities, such as NP Cares Walk Fiesta and Dance Heist competition, encouraged bonding and caring for the community and the environment.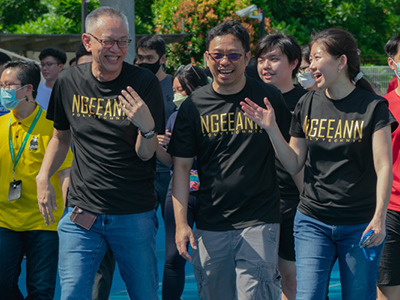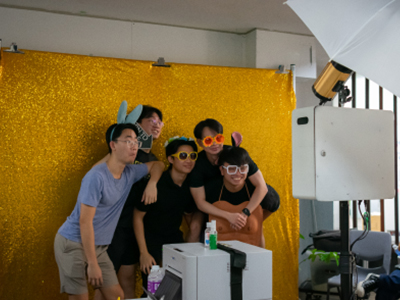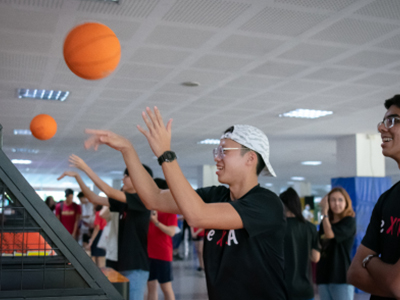 Apart from a big walk, NP Cares Walk Fiesta also features a carnival with food, games and performances galore.
---
September 2022
As Covid-19 restrictions eased, NP's Innovation & Entrepreneurship Office The Sandbox resumed the Global Entrepreneurial Internship Programme (GEIP) which was halted in 2020. Our first batch of 23 post-pandemic interns – from the Schools of Business & Accountancy, Design & Environment, Engineering, Film & Media Studies, Humanities & Social Sciences, and InfoComm Technology – spent a semester interning in Bangkok and Ho Chi Minh City. They had the opportunity to be attached to different companies and departments including Business Development, Marketing, Security, UI/UX, Operations, Engineering, Customer Success, Software Development and Design.



GEIP interns in Ho Chi Minh City had the opportunity to meet with President Halimah Yacob and her husband Mr Mohammed Abdullah Alhabshee during their internship.

The inaugural batch of Year 2 Engineering Science (ES) students from the School of Engineering pre-enrolled in the NP-Singapore University of Technology and Design (SUTD) Pathway Programme. These six students are on the fast track to graduate with a Bachelor's degree in engineering and design a year ahead of their peers. They will stay on SUTD campus where they will take foundational modules in Science, Mathematics, Technology, Humanities, Arts and Social Sciences. As part of the ES course requirements, they will also do their Final-Year Project at SUTD which will be supervised by the university's faculty and co-assessed by NP.

---
October 2022
Lions Befrienders and NP's School of Humanities & Social Sciences (HMS) signed a Memorandum of Understanding on 12 October to collaborate on educational activities for seniors. A key project is Silver U which provides training for seniors to promote positive ageing. HMS lecturers conducted workshops for the seniors to package lessons that would interest youth while HMS students and alumni helped them put together PowerPoint presentations. The seniors would then share the content with secondary school, ITE and junior college students to promote intergenerational ties.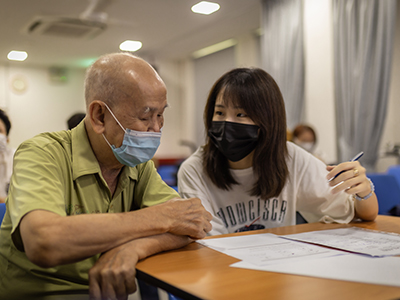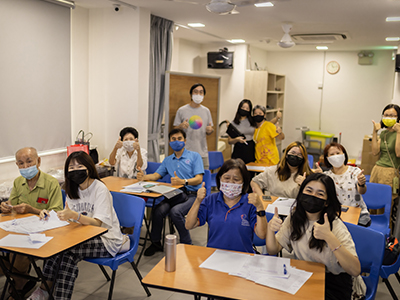 HMS students and alumni took on the role of befrienders and supported the seniors during the workshops conducted by HMS lecturers.
Our CET Academy (CETA) launched Singapore's first-ever Human-Centred Design Institute (HCDI) on 14 October at the inaugural CET Annual. At the event, CETA showcased its end-to-end learning and development solution capabilities, in partnership with global training institute LUMA and with the support of SkillsFuture Singapore. The launch was graced by Ms Gan Siow Huang, Minister of State for Education and Manpower, and had over 120 attendees. HCDI augments CETA's training programmes which can be customised to help organisations equip their employees with critical core skills required by the future economy. Learners will also enjoy access to the LUMA Workplace® digital platform, which includes templates that will help them apply human-centred design in their daily work.



Minister of State for Education and Manpower Ms Siow Huang Gan (middle) with NP Principal & CEO Mr Lim Kok Kiang (left), and LUMA Institute Client Partnership Group Director Mr Gavin Pryke (right) at the launch of HCDI.

On 27 October, NP and Temasek-backed digital transformation company Temus announced a partnership to upskill NP's employees who perform IT-related roles or work on IT projects. A key initiative under this partnership is the Digital Factory, which empowers employees to co-develop digital solutions with Temus using Artificial Intelligence, data management and human-centred design.



NP Principal & CEO Mr Lim Kok Kiang and Temus CEO Mr KC Yeoh at the MOU Signing Ceremony.
---
November 2022
NP and the School of Science & Technology (SST) offered a new Integrated Diploma Programme that gives students interested in Science, Technology, Engineering, and Mathematics an opportunity to enrol in NP without taking the O-Levels. The first batch of 50 SST students who joined the through-train programme can choose from 21 diploma courses offered by these four academic schools at NP - Design & Environment, Engineering, InfoComm Technology and Life Sciences & Chemical Technology.

Longstanding donor Ngee Ann Kongsi (NAK) gave $9.7 million to NP on 2 November. The donation will help support the holistic development of students through student development programmes, bursaries, scholarships and student aid grants. In the last academic year, NP students benefited from the generous contributions from a total of 64 organisations and individuals.


From left: NP Principal & CEO Mr Lim Kok Kiang, then-Chairman of NP Council Mr Tang Kin Fei, Minister of State for Education and Manpower Ms Gan Siow Huang, and from the NAK, President Mr James Teo, and Chairman of Education Sub-Committee Mr Goh Kim Hock.
The Youth Work Association (Singapore) (YWAS) and NP organised Youth Work Day 2022 on 11 November, with support from the Ministry of Social and Family Development (MSF). The event was graced by Mr Eric Chua, Senior Parliamentary Secretary for Culture, Community and Youth and for Social and Family Development. At the event, MSF unveiled the Youth Onboarding Course delivered by NP lecturers that will offer foundational knowledge, career information and networking opportunities. In addition, NP announced a new Youth Development Academy (YOuDA) that will provide training, promote collaboration and conduct research on youth development and mental wellness. YWAS will partner NP in developing YOuDA courses.



Senior Parliamentary Secretary for Social & Family Development and Culture, Community and Youth Mr Eric Chua (front row, 6th from left) was joined by NP Principal & CEO Mr Lim Kok Kiang (to the right of Mr Chua) and 300 guests from social service agencies, schools and community groups.

NP launched the NP x Carousell Sustainability Lab at The Sandbox Alumni Homecoming event on 16 November to commemorate 20 years of innovation and entrepreneurship. The new incubator space was established in partnership with recommerce group Carousell, co-founded by two NP alumni Marcus Tan and Quek Siu Rui, and another partner. Over 100 alumni entrepreneurs attended the launch, which was graced by Ms Gan Siow Huang, Minister of State for Education and Manpower. She also launched the second edition of "Those Who Dared", a commemorative book capturing the entrepreneurial spirit of trailblazing alumni.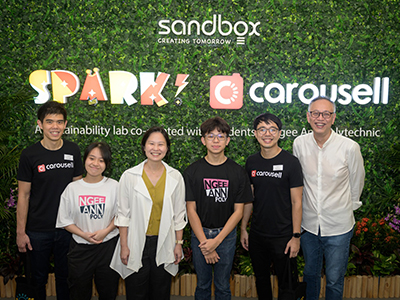 Minister of State for Education and Manpower Ms Gan Siow Huang (third from left) with NP Principal & CEO Mr Lim Kok Kiang (far right), Carousell co-founders, Mr Marcus Tan (second from right) and Mr Quek Siu Rui (far left), and NP students at the launch of NP x Carousell Sustainability Lab.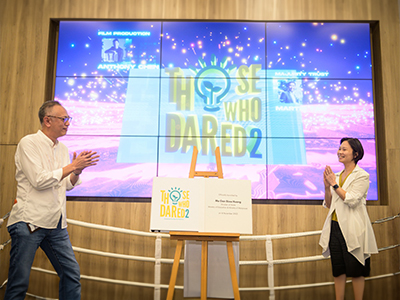 Ms Gan officially launches the book "Those Who Dared 2" while Mr Lim looks on.
The School of Business & Accountancy (BA) hosted FESTIV.AI, NP's first-ever AI learning fest, on 22 and 23 November. FESTIV.AI was an opportunity for students taking BA's signature Business Digitalisation (BD) Track to interact with tech companies and gain knowledge about some of the latest technologies. Ten local and global brands including Huawei, EliteFit.AI and HelloHolo took part in the event, showcasing exhibits such as racing simulators, 3D tic-tac-toe, nanocars, lie detectors and robotic arms.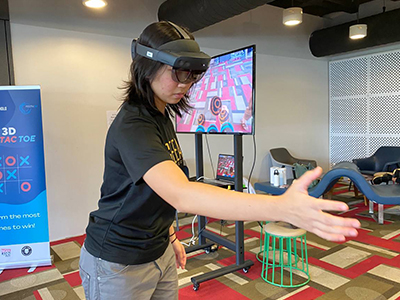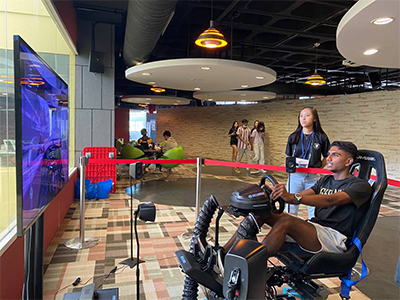 BD Track students performing live demonstrations of tech products.
NP became the first to introduce Quantum Computing into post-secondary curriculum, thanks to an IBM Singapore partnership. Over the next three years, more than 500 School of InfoComm Technology (ICT) students will benefit from customised learning plans and immersive training in Quantum Computing and AI. Besides acquiring key skills, students can connect with the IBM team and gain hands-on experience through workshops. ICT students and faculty will also enjoy complimentary access to software and resources from the IBM SkillsBuild programme. IBM is also sponsoring 30 students for its Red Hat Certified Systems Administrator and Certified Engineer programmes.



From left: From NP, then-Deputy Principal Mr Russell Chan, and Principal & CEO Mr Lim Kok Kiang, and from IBM Singapore, Mr Colin Tan, General Manager & Technology Leader, and Mr Purushothama Shenoy, CTO, IBM Technology Business Unit.
---
December 2022
To nurture the next generation of multi-platform media content creators, NP partnered media and entertainment company mm2 Entertainment and digital news platform Mothership. NP also expanded an existing MediaCorp collaboration. These partnerships, announced on 1 December, dovetailed with the launch of the Common Media Programme (CMP) by the School of Film & Media Studies (FMS). With the first intake beginning in April 2023, CMP encompasses a curated series of modules that includes storytelling techniques, motion graphics and video production, giving students a multi-platform grounding before they enter one of three FMS diploma courses.



NP Principal & CEO Mr Lim Kok Kiang and mm2 Asia Group CEO Mr Chang Long Jong with FMS students.

The School of Life Sciences & Chemical Technology revamped its Diploma in Biomedical Science curriculum to offer students a choice of two tracks in their final year. Beginning in April 2023, the Integrated Clinical Training Programme track will be offered in collaboration with Singapore General Hospital to give 20 students who have an aptitude for clinical science valuable exposure in clinical trials and research for a year. The Applied Biomedical Science track will give students the chance to complete a Capstone Project or an internship with a local or overseas institute, pharmaceutical company or healthcare organisation.



K. S. Gautam is one of the Biomedical Science students embarking on the one-year Integrated Clinical Training Programme with SGH. He aspires to be a cardiologist in the future.
---
January 2023
NP became the first institute of higher learning with an autonomous shuttle service serving its campus with the launch of the MooBus. Through this partnership with autonomous driving software technology provider MooVita Pte Ltd, its team of experts will co-develop, co-deliver, and co-assess NP's engineering curriculum to nurture deep tech talent and prepare students for future careers in autonomous vehicle technology.



MooVita has been headquartered in NP since 2017 and has partnered with the School of Engineering since 2018.
---
March 2023
NP welcomed the appointment of Mr Yuen Kuan Moon, Group Chief Executive Officer of Singtel, as Council Chairman from 1 April. Mr Yuen takes over from Mr Tang Kin Fei, who led the Council since 1 July 2011. Mr Yuen has served on the NP Council since 1 April 2022. As Group CEO of Singtel, he has driven the Group's strategic transformation, establishing its 5G leadership, creating new digital businesses and championing sustainability. Mr Yuen sits on the Boards of Singtel and its key subsidiaries, as well as Telkomsel, Groupe Speciale Mobile Association, and the Singapore Institute of Management.

As the Covid-19 restrictions were lifted, in-person Youth Expedition Projects (YEPs) resumed in earnest. NP organised five overseas trips during the year under review. The trips gave 102 students the opportunity to make a positive impact on more than 1,250 people who live in underserved communities in the Philippines, Cambodia, Malaysia and Laos. Using NP's signature Service-Learning pedagogy, their projects included building shades for plant beds, refurbishing schools, conducting health screening, as well as teaching digital skills and conversational English.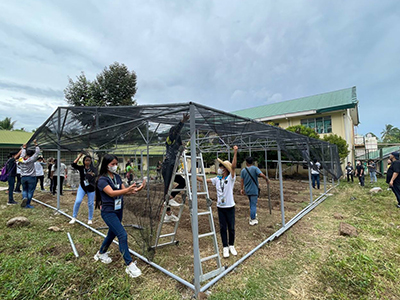 NP students constructing a plant shade house to help enhance agriculture learning for the 100 students in the Agriculture Technical-Vocational track at Bartolome R. Luardo National High School in Davao, Philippines.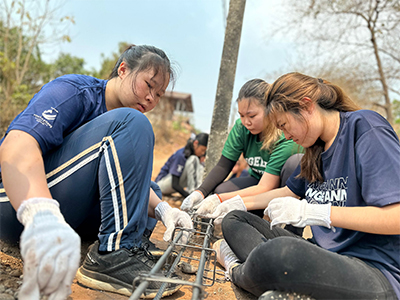 NP students constructing a plant shade house to help enhance agriculture learning for the 100 students in the Agriculture Technical-Vocational track, at Bartolome R. Luardo National High School, in Davao, Philippines.
Twenty-six students successfully completed the three Learning Units under the Social Leadership track for the Personalised Learning Pathway to become the first batch of NP students to graduate with a Minor in Social Leadership. These students rolled out 17 projects that served more than eight communities, working with community partners to ensure that the communities' needs were met and developing leadership skills along the way.

Together with the resumption of other in-person programmes, NP brought back the Overseas Immersion Programme (OIP) this year. The Office of Immersion & Careers (OIC), together with the Schools of Business & Accountancy, Design & Environment, Engineering, Health Sciences and InfoComm Technology led these OIPs with 60 students traveling to Bangkok, Thailand; 30 to Nakhon Pathom, Thailand; and 90 to Hanoi, Vietnam. The OIPs included educational workshops, interactive sessions with local students, and visits to national monuments, museums, farms and industrial sites.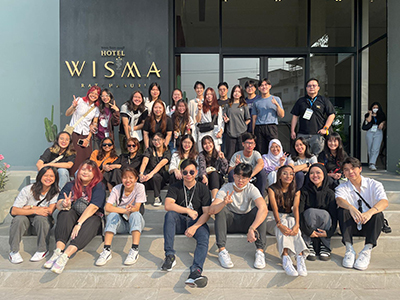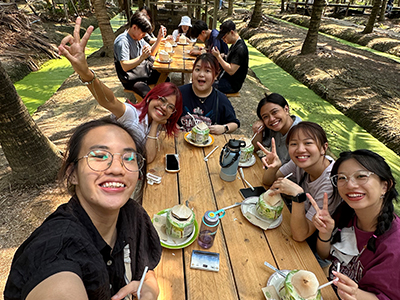 Students on an OIP trip in Bangkok, Thailand.