Annual Report 2022/2023
---
Accolades & Awards
We celebrate with our students, alumni and staff for their numerous international and national accomplishments garnered in the past year.
---
Our Students
WorldSkills Wins
NP won a gold medal, a silver medal, and two medallions for excellence at the WorldSkills Competitions that were held in various cities around the world. Despite the intense competition, our students held their own, especially in the Water Technology, Freight Forwarding, Mechatronics and Information Technology (IT) categories.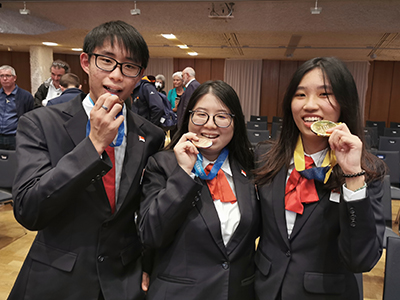 Environmental & Water Technology student Raine Lim Jia Ying (far right) won a gold medal in the Water Technology category and was crowned world champion at the WorldSkills Competition 2022 Special Edition held in Stuttgart, Germany.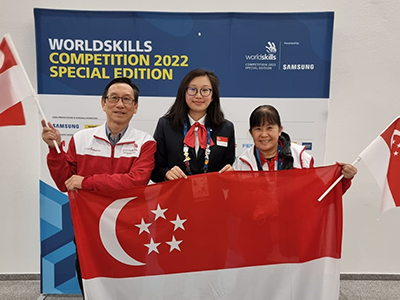 International Trade & Business student Lee Jia Ying (middle) won a silver medal in the Freight Forwarding category at the WorldSkills Competition 2022 Special Edition.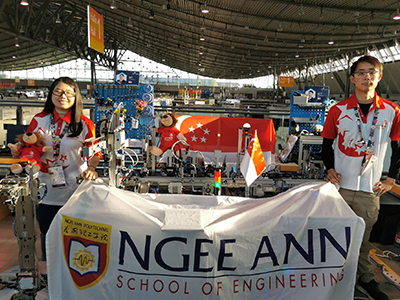 Automation & Mechatronic Systems students Tan Xin Yong and Gladys Chia competed against 24 international teams at the 46th WorldSkills Stuttgart 2022 competition to clinch a medallion for excellence in Mechatronics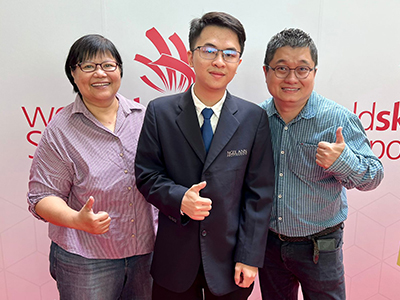 Cybersecurity & Digital Forensics student Qin Guan (middle) won a medallion for excellence in the IT Software Solutions for Business category at WorldSkills Singapore in March 2023.
Poly FinTech100 API Hackathon Champion
A multidisciplinary team from NP emerged as the Overall Champion of Poly Fintech100 API Hackathon 2022. Team Fleur, comprising students from the Banking & Finance, Business Studies and Engineering Science courses, was one of eight NP teams from the Schools of Business & Accountancy, InfoComm Technology, Design & Environment, and Engineering. Competing in six categories, three of the eight teams topped the Eco-Payments, Gamified Finance and RegTech categories, which qualified them for the grand championship at the Singapore FinTech Festival 2022, an annual event that brings the global FinTech community together.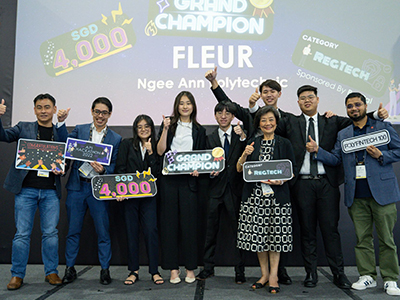 Taking home the Grand Prize at the PolyFinTech 100 API Hackathon Grand Finals is Team Fleur, comprising of (back row, third from left) Jerlaine Xia Xin Lin, Goh Xin Ling Pearl, Chua Rui Xiang Ivus, Alvis Oh Jun Kai and Haw Yan Tzer.
Start-up Success
Business Studies student Perren Ong from the School of Business & Accountancy won the silver award in the Post-Secondary Education Institutes category at the National Youth Entrepreneurship Award Finals 2022, an annual event organised by Action Community for Entrepreneurship to recognise youths who have contributed to the Singapore start-up ecosystem. Perren is the co-founder and CEO of The Podables, a start-up that produces environmentally and travel-friendly soaps.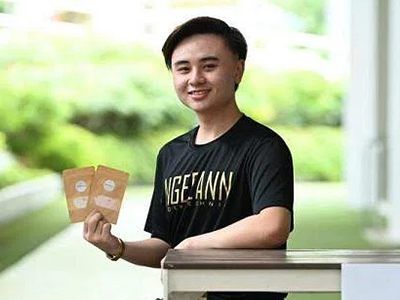 Perren Ong co-founded Podables, an eco-friendly and portable soap product designed to reduce plastic waste and solve the problem of leaky travel toiletry bottles
New Business Model for Distributor
A new franchise business model and a subscription-based B2B platform promising new revenue streams for an aquarium fish distributor earned three International Trade & Business (ITB) students third place in the Heartland Enterprise category of the Heartland Innovation Challenge, organised by the Federation of Merchants' Associations Singapore.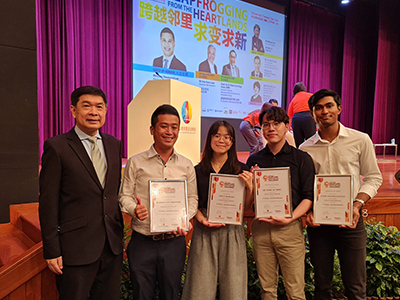 Third from left: ITB students Eve Toh Yi Xuan, Terry Lee Ching Jet and Kishor Chidambarabathan
won third place in the Heartland Innovation Challenge.
Mobile Healthcare
Engineering Science student Fu Xin and Electronic & Computer Engineering student Alaina Akriti Jaiswal, as well as Information Technology student Lim Junquan Ryan were behind one of the two winning entries representing Singapore at mPreneur: Youth Mobile Entrepreneurship For Sustainable Future. Sponsored by the European Union, mPreneur gives aspiring entrepreneurs a platform to showcase their innovations. Their brainchild called MedGrab was a mobile application for keeping medical records and conducting virtual consultations.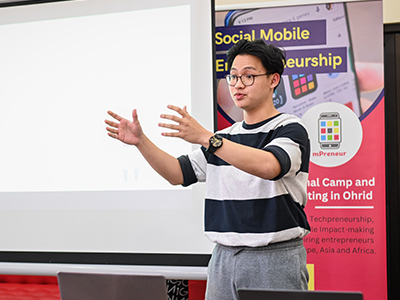 Fu Xin presenting the final pitch for MedGrab during the Intercontinental Camp held in Macedonia.
Scientific Research Presentation
School of Life Sciences & Chemical Technology students Adam Mikail and Brian Chan Wei Wen clinched the top prize at the Young Scientists' Symposium 2023 in the Oral Presentation category. They impressed the judges with their research on how the SARS CoV-2 viruses evolved over time. The annual Symposium was organised by the Singapore Society for Biochemistry and Molecular Biology and the Singapore Science Centre to give polytechnic students a platform to share their research and promote a culture of scientific inquiry.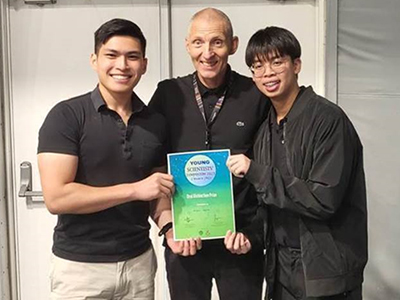 Adam Mikail (left) and Brian Chan Wei Wen (right) being presented with their prize by Vice President of Singapore Society for Biochemistry and Molecular Biology (SSBMB), Prof Thilo Hagen.
Winning Ways with Water
School of Life Sciences & Chemical Technology (LSCT) students won the top two prizes at the Water Environment Federation - Environmental Engineering Society of Singapore Student Design Competition 2022/23. Shannon Ang, Teo Chun Yi and Ismail Hadi Bin Zamzam won the first prize with a drone that enables safe and easy sample collection from water bodies. Fellow LSCT students Koh Yee Teng, Choo Yan Qi and Thivya Balu bagged the second prize with a method to test the effectiveness of engineered soil mix in removing stormwater pollutants.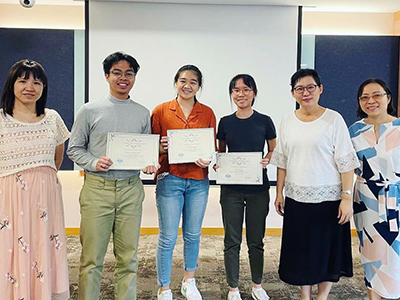 (Second to fourth from left) LSCT students Ismail Hadi Bin Zamzam, Shannon Ang and Teo Chun Yi.
Sustainable Fashion Design
A team of six design students from the School of Design & Environment (DE) won a merit award at the Sustainable Fashion Hackathon during GreenFest 2022, organised by the charity GreenSG COLLAB, the National Parks Board and People's Association PAssion Wave. A free public festival, GreenFest was established to invigorate a community of learning and action for a more sustainable world, and contribute to the realisation of the Singapore Green Plan.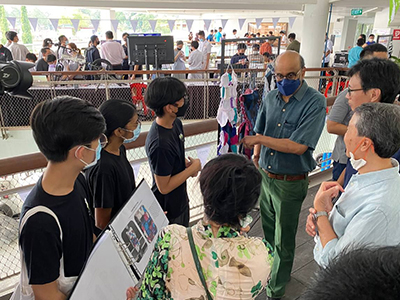 The DE team had the opportunity to show their work to then-Senior Minister and Coordinating Minister for Social Policies, Mr Tharman Shanmugaratnam.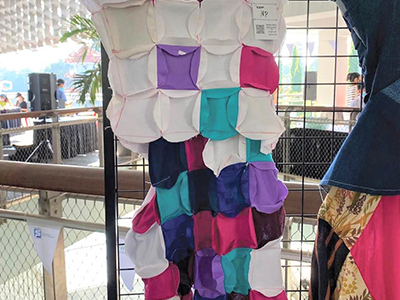 Drawing inspiration from the architecture of Tekka Place, they created a geometric patchwork dress out of upcycled fabrics.
Lighting Up the Civic District
A team of final-year School of Film & Media Studies students from the Diploma in Media Post-Production (MPP) partnered the National Heritage Board and event marketing company, Pico, to project their work onto the Stamford Court Clock Tower as part of their Capstone Project. During the Singapore Night Festival 2022, thousands viewed their pop art-style projections, which showcased historical landmarks and cultural milestones.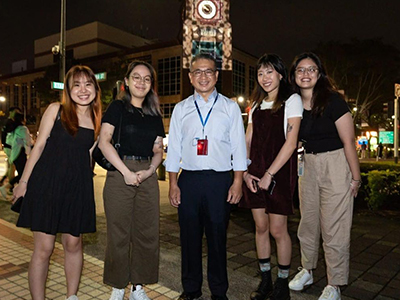 MPP students (from left) Sherlene Chan Yeng Huei, Han En Yu, Chan Yun Qi and Elyza Tan I-Sher, with Minister for Culture, Community & Youth and Second Minister for Law, Mr Edwin Tong (middle), in front of their projection on the Stamford Court Clock Tower.
Crowbar Awards for Creative Work
Students from the School of Film & Media Studies garnered four awards at The Crowbar Awards. They clinched a gold award in the Animation category, two bronzes in the Documentary category and a bronze for Cinematography. Organised by the Association of Advertising and Marketing Singapore, The Crowbar Awards is one of the most prestigious competitions for young creatives in Asia Pacific.
Final-year Film, Sound & Video students won the Gold prize for Animation in the Film and Photography category for The Crowbar Awards.
Accounting Scholars
Crowe Singapore – an award-winning accounting, tax and advisory services firm that is part of top-10 accounting network Crowe Global – presented the inaugural Crowe Scholarship to two accountancy students from the School of Business & Accountancy (BA). With a focus on holistic development, the scholarship includes an internship and mentorship opportunities. Students will also have the chance to pursue a career at Crowe.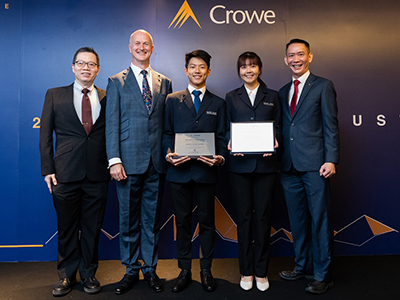 From left: BA Director Mr William Lim, CEO of Crowe Global Mr David Mellor, Crowe Scholars Jonathan Chaw Junxi and Kelly Ker Sze Yee, and Chief Executive and Managing Partner of Crowe Singapore, Mr Tan Kuang Hui.
SingHealth Nursing Award
Nursing student Eng Kah Yee from the School of Health Sciences received the SingHealth Nursing Award in the Outstanding Student Nurse category at the SingHealth Nurses' Day Celebration 2022.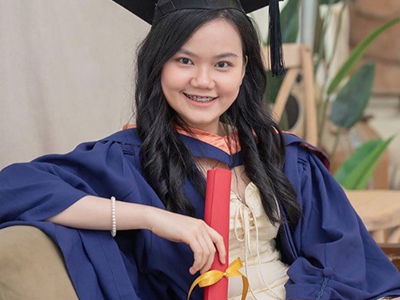 Eng Kah Yee is now working as a Registered Nurse at Sengkang General Hospital.
---
Our Alumni
Scholastic Achievements
Many among our alumni have been awarded prestigious local and overseas scholarships.
Two students from the School of InfoComm Technology (ICT) were awarded the Public Service Commission Scholarship. Financial Informatics graduate Yeh Ming Hui is studying Accountancy at Nanyang Technological University (NTU) while Information Security and Forensics graduate Taufiq Mohammed is studying Computer Science at the National University of Singapore (NUS).
Three students clinched the Defence Science and Technology Agency (DSTA) Scholarship: Engineering Science graduates Anne Lee Han and Benjamin Koh Zhao Hui are furthering their studies in Design Engineering at Imperial College London and Computer Science at NUS respectively, while Financial Informatics graduate Angel Lee Xuan Xuan from ICT is studying Computer Science at NUS.
Aerospace Engineering graduate Siah Yee Long was awarded the Singapore Armed Forces Engineering Scholarship by the Ministry of Defence. He is studying Computer Engineering at NTU.
Five alumni from the School of Health Sciences – Jaslyn Lee Shu En, Hoang Hai Thai Duong, Nicole Hiu Jin Shi, Lee Xiu Yan Carissa, and Lezanne Guo Lixin – received Healthcare Scholarship Awards from the Ministry of Health Holdings Pte Ltd.
Engineering Science alumnus Duan Jiafei received the Agency for Science, Technology and Research (A*STAR) National Science Scholarship to pursue a PhD in Robotics/AI at the University of Washington.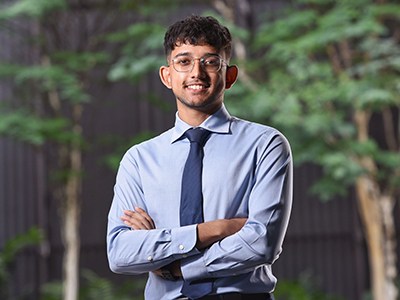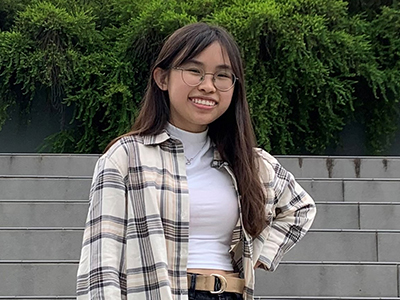 ICT alumni Taufiq Mohammed and Angel Lee Xuan Xuan will be pursuing Computer Science at NUS, having received the PSC Scholarship (Engineering) and DSTA Scholarship.
Award-Winning Designers
School of Design & Environment (DE) alumnus Charles Tew Jun Xiang bagged the Best Green Innovation Award and a bronze award (Interior Design category) at the Asia Young Designer (National) Awards. Verceluz Mary Rheanne Villareal, also a DE graduate who specialised in Architecture, won a silver award (Interior Design category).
Charles Tew Jun Xiang's 'Multi-Gen Library' conceptualises a family-friendly library that caters to all three generations with its inclined pathway and multiple resting areas.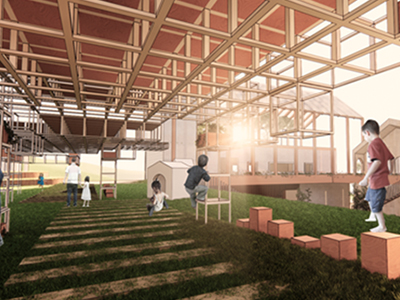 Verceluz Mary Rheanne Villareal's 'Kidsville' showcases a Children's Cultural Centre that gives children-at-risk the freedom to participate in arts, culture and recreational programmes.
Start-up secures US$7.5m funding
Procurement start-up Eezee, co-founded by School of Engineering alumnus Jasper Yap (left), School of Business & Accountancy alumnus Logan Tan (middle), and School of InfoComm Technology alumnus Terrence Goh (right), secured US$7.5million in Series A funding to support its growth in Southeast Asia. Eezee's key executive team was formed with the support of The Sandbox, NP's Innovation & Entrepreneurship Office, back in 2017. The Series A funding will allow Eezee to increase headcount, grow market share and develop new product features for its B2B platform.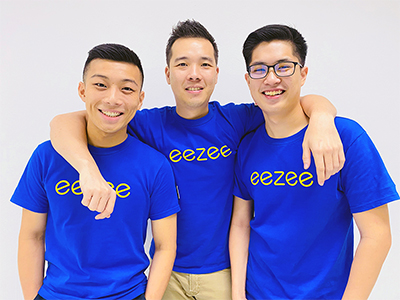 Making it to Forbes 30 Under 30
School of Business & Accountancy alumnus Matthew Zeng made it to the 2022 Forbes 30 Under 30 in Media, Marketing & Advertising (Asia) list. In 2014, at the age of 22, Matthew co-founded marketing agency DSTNCT, which specialises in integrated marketing services, including digital content creation and influencer marketing. The company employs 50 people and rakes in $5 million in annual revenue.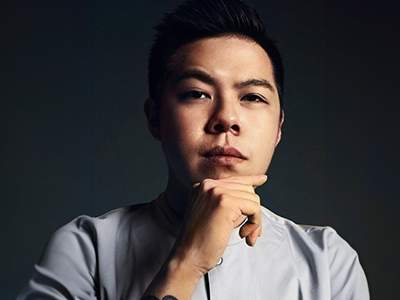 Young Business Leader of the Year
Ian Ang, CEO and co-founder of Secretlab, was named Young Business Leader of the Year at the Singapore Business Awards 2022. The School of Business & Accountancy alumnus turned a homegrown gaming chair company into an award-winning global enterprise in just eight years, selling millions of chairs along the way.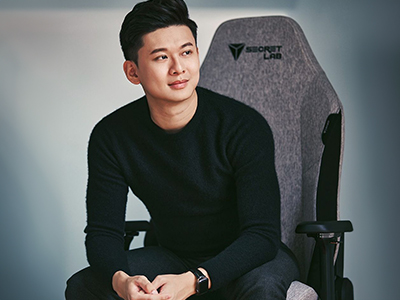 Leaders of Good (Youth) Award
School of Humanities & Social Sciences alumnus Cho Ming Xiu received the Leaders of Good (Youth) Award at the President's Volunteerism & Philanthropy Awards 2022 from President Halimah Yacob, in recognition of his dedication to promoting awareness of mental health. The Chinese Studies graduate is the Founder and Executive Director of Campus PSY, a youth-focused mental health organisation.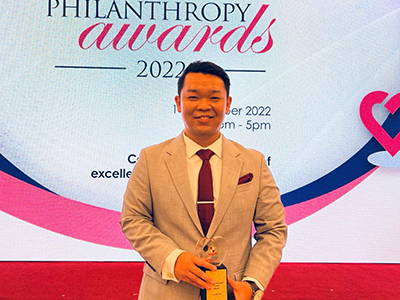 ---
Our Staff
Driving HR Innovation
NP's CET Academy (CETA) won a silver award for Best Corporate Learning & Development Provider at the HRM Asia Readers' Choice 2022 Awards. Recognising the best human resources solution providers in Asia, the award was a showcase of CETA's innovations and commitment to empowering organisations to navigate the changing world of work.
Joining the Fight Against Covid-19
NP's School of Health Sciences (HS) was awarded the President's Certificate of Commendation for enabling just-in-time training for more than 1,200 Covid-19 vaccinators, in support of the nation's vaccination efforts. As a Ministry of Health (MOH)-approved training provider, HS was involved in creating training materials and a total of 15 NP nursing lecturers and 11 technical support staff conducted 40 hands-on training sessions.
In addition, HS lecturer Jennifer Bao Zhenyuan received The Commendation Medal (COVID-19) for her contributions to Singapore's fight against Covid-19. During her two-year secondment to MOH, she supported the Ministry's pandemic response by helping to set up the Vaccinator Training Course for non-nurses, conduct vaccination centre audit visits and deploy nursing students to meet manpower needs.
MOE Innergy Awards Triumphs
School of Life Sciences & Chemical Technology (LSCT) lecturer Olivia Ho won the Silver Award at the 2022 MOE Innergy Awards for developing a 360 Virtual Community Pharmacy (VCP), an interactive online platform that helps Pharmaceutical Science students learn the inner workings of a pharmacy through a 3D experience. Developed in collaboration with NP's Office of Learning & Technology, the VCP helped to build students' confidence in working in a pharmacy despite not having as much hands-on experience during the Covid-19 pandemic. The award recognises individuals for innovations that contribute to significant benefit and impact at their workplaces.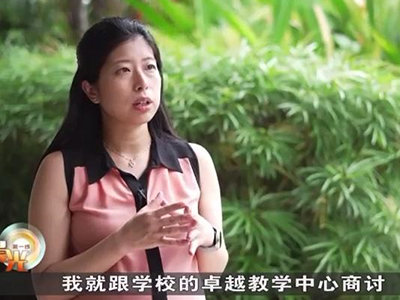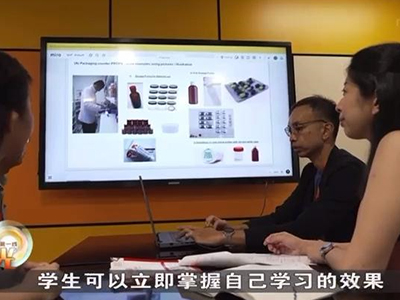 LSCT lecturer Olivia Ho on Channel 8 "Morning Express", a daily Chinese News programme, sharing about VCP as part of a segment on innovative educational technologies.
James Ker and Gerry Cheong from the School of Engineering received the Commendation Award at the 2022 MOE Innergy Awards for developing a template that automatically generates Microsoft Excel spreadsheets for mark entry and verification.
Senior Lecturer James Ker won a Commendation Award at the 2022 MOE Innergy Awards.
Outstanding Educator
Tan Hui Min from the School of Humanities & Social Sciences and the National Institute of Early Childhood Development received the President's Award for Teachers from President Halimah Yacob during the Teachers' Day Reception. The award recognises excellent educators and their role in shaping the future of our students and our nation.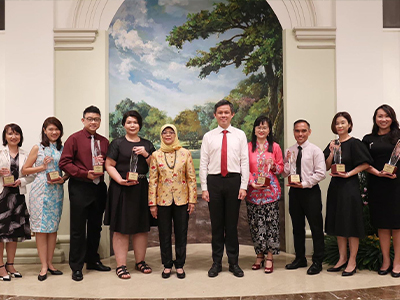 Tan Hui Min (second from left) and other recipients of the President's Award for Teachers with President Halimah Yacob (fifth from left) and Education Minister Chan Chun Sing (sixth from left) at the Istana.