---
Rising Above
The Covid-19 pandemic will be remembered for changing how the world works. It accelerated the expansion of the digital economy and propelled changes that are here for good. In a bid to help our learners rise above these waves of change to harness opportunities, we have put in place new initiatives to build skills in emerging technologies and develop greater resilience in the face of an evolving industry landscape. We also brought back some of our signature programmes that were halted during the pandemic. We are therefore pleased to present our annual report which highlights our key milestones for the financial year that ended on 31 March 2023.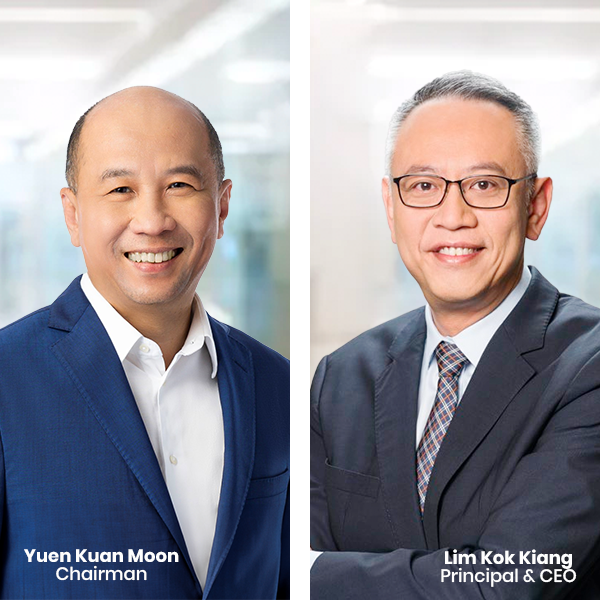 Industry-relevant learning
To ensure that our curriculum remains robust and relevant, we further geared up our industry collaborations to shape and deepen real-world learning for our learners.
We tied up with Johnson & Johnson Singapore to unveil the first-ever omni-channel Johnson & Johnson (J&J) Experience Centre on campus in April. Equipped with retail technologies such as the POP6 cloud-based point-of-purchase execution solution and a live-streaming set-up, it doubles up as a learning facility and physical lifestyle store for students from the School of Business & Accountancy (BA). Close to 500 BA students will gain industry-real learning from J&J Singapore's team of experts through projects, workshops and mentorship.
In June, the School of Design & Environment partnered LeapThought, a leading software and deep tech solutions provider, to co-develop and co-deliver a curriculum for design students to gain skills in Integrated Digital Delivery (IDD) solutions. With IDD identified as one of the key thrusts in Singapore's efforts to transform the construction industry, the partnership will train students with the know-how to use digital technologies to integrate work processes and connect stakeholders in the building industry, giving them an edge in their career.
The School of Film & Media Studies (FMS) also announced partnerships with mm2 Entertainment and Mothership, as well as new collaboration plans with Mediacorp in December. Mothership, Singapore's leading youth-focused digital news platform, will present students with the opportunity to learn about "digital-first journalism", while regional media and entertainment company mm2 Entertainment will offer students the opportunity to be involved in the creation and distribution of short films through its regional mPlay Asia streaming platform. Another effort aimed at nurturing the next generation of multi-platform content creators is FMS's partnership with Mediacorp's social media creative studio, Bloomr.SG.
Creating new pathways
The future of work will continue to evolve. To this end, we strive to open up more possibilities for our students to acquire new skills or deepen their learning in their areas of expertise.
In the year under review, we launched a new minor in Sustainability under our Personalised Learning Pathway (PLP) to better prepare students for green careers in industries that are adopting sustainable practices. This brings the total number of PLP minors offered to 11. In 2023, we celebrated our first batch of 454 PLP students who graduated with a minor on top of their diploma.
To give Biomedical Science (BMS) students a head start in careers in clinical science and healthcare research, the School of Life Sciences & Chemical Technology collaborated with Singapore General Hospital (SGH) to design an exclusive one-year Integrated Clinical Training Programme. Each year, up to 20 final-year BMS students will get hands-on exposure to translational research, clinical trials and clinical diagnostics.
Recognising that secondary school students are also seeking more options to explore their interests to discover their potential, we launched two new Common Entry Programmes, the Common Media Programme and Common Science Programme are designed for students keen on pursuing a future in the media and sciences respectively, but need more time to discover their strengths before selecting a specialised diploma.
Catering to secondary school students interested in science and technology-related areas, NP and the School of Science and Technology established the Integrated Diploma Programme (IDP) in 2020. Last October, the first intake of 50 students joined this through-train programme at the end of Secondary 2. This will allow them to secure a place in NP – choosing from 21 diplomas – without taking the O-Levels.
Known as the polytechnic for budding entrepreneurs, NP provided graduates who are passionate about entrepreneurship with a much-needed boost in their start-up ventures. In November, we announced the NP Angel Network – Singapore's first investment network for polytechnic graduates – to mark NP's 20 years of nurturing entrepreneurial talents. Under the scheme, accomplished alumni entrepreneurs will mentor budding start-up founders, offering guidance and even personal networks. With each of them committing a minimum of $20,000 each as angel funders, a total of $500,000 was pledged as part of the announcement.
Resuming overseas experiences
Fully cognisant of the value that in-person experiences have on students in the area of developing global readiness, we reestablished ties with overseas internship partners to create opportunities for our students to immerse themselves in fast-growing Asian economies. Twenty-three students undertook their six-month internship in Bangkok and Ho Chi Minh City as part of the Global Entrepreneurial Internship Programme (GEIP), which aims to nurture entrepreneurial skills by exposing them to the dynamic work culture at overseas start-ups.
The resumption of the in-person Youth Expedition Project (YEP) saw an overwhelming number of students participating in Service-Learning (S-L) projects that benefitted underserved communities in the Philippines, Cambodia, Malaysia and Laos. Our 102 students helped to refurbish schools, conduct health screenings, and teach conversational English and digital skills. Collectively, they made a positive impact on the lives of over 1,200 people from these communities. Our signature S-L pedagogy infused in these YEP trips enabled students to use their course skills to serve needs and, at the same time, gain a deeper understanding of socio-economic issues and develop critical lifeskills.
Broadening sustainability focus
Committed to environmental stewardship, NP endeavours to shape a green and sustainable campus by adopting smart and eco-friendly technology and solutions.
Last June, NP signed an MOU with Grundfos, a global leader in advanced pump solutions and water technology, to co-develop energy and water efficient smart solutions. These solutions will be implemented across the NP campus, as well as Grundfos' facilities. Through a suite of jointly developed training programmes, the partnership also aims to nurture the next generation of engineers to create smart sustainable cities of the future.
Notably, in January 2023, we launched Singapore's first full-fledged autonomous shuttle service, developed by smart mobility solutions provider MooVita. The electric-powered 13-seater MooBus, equipped with the latest autonomous vehicle technologies, ferries our students and staff around campus and offers last-mile service from King Albert Park MRT station. NP's partnership with MooVita also avails opportunities for our faculty and students to learn more about smart mobility and green vehicles.
As the world increasingly recognises the need to manage the impact of businesses on our planet and communities, the emerging field of social sustainability has become high on NP's agenda. In April last year, NP's Office of Service-Learning launched a Service-Learning x Sustainability training programme, with over 30 staff across all academic schools attending the inaugural run. Through a series of learning journeys to organisations such as Food Bank Singapore, Changi Airport, Razer Singapore and Sembcorp Floating Solar Farm, attendees gleaned insights into how businesses can be more socially responsible.
To foster inclusive and resilient societies – a key component of social sustainability – the School of Humanities & Social Sciences announced its new Youth Development Academy (YOuDA) that will provide training and conduct research on youth development and youth mental wellness. Partnering with Youth Work Association (Singapore), NP will offer training programmes aimed at empowering youth work professionals to address emerging needs among our youths.
Continuous learning to drive transformation
Beyond helping adult learners to gain new skills to stay relevant in today's global economy, our CET Academy (CETA) turned its focus to companies that needed to innovate and adapt to new business realities. It hosted the inaugural CET Annual event featuring distinguished speakers from organisations that partnered CETA in integrating critical core skills training in their workforce transformation journeys.
At the event, CETA also launched Singapore's first-ever Human-Centred Design Institute (HCDI) in partnership with global training institute LUMA and with the support of SkillsFuture Singapore. The highly regarded Human-Centred Design methodology has been used by leading companies worldwide to develop essential soft skills. Through the HCDI, NP's CETA has gained a proven training tool that can be applied in our customised training programmes to help Singapore-based companies take their business to the next level.
In all, our CETA offered more than 38,000 training places and clocked in over 1.3 million training hours last year.
New horizons
Guided by our focus to prioritise experience, relevance and choices for our learners, we have made progress in this journey over the past year.
We thank our staff for delivering their best to our stakeholders. They have demonstrated agility, commitment and innovation – many of them rising above challenges as they dealt with changes in their own areas of work. We deeply appreciate parents, alumni, advisory committees, donors, industry and community partners, as well as colleagues from the Ministry of Education for their unwavering support. We are also grateful for the guidance of our fellow council members, especially Council Chairman, Mr Tang Kin Fei, who stepped down from his role earlier this year, after nearly 12 years of distinguished leadership.
These are exciting times for us. While there are new challenges on the horizon, we are confident of rising above them and seizing the opportunities ahead to shape a better future for our learners and our staff.
---
Yuen Kuan Moon
Chairman
Lim Kok Kiang
Principal & CEO