BROADEN YOUR HORIZONS
Experience transformative learning through internships and overseas programmes! Ready to expand your personal network, build your confidence, and level up your poly experience? Let's go!
Internships with the Industry's Best
Develop your professional skills through an internship in exciting companies here and abroad. Keen on promoting social good? Have a burning desire to be part of the start-up scene? No matter your interest, we have something for you!
Overseas Immersion Programme (OIP)
Experience life as a student abroad! Gain new perspectives and develop cross-cultural skills through classes at overseas universities and visits to local businesses. Become an adaptable global citizen who works and thrives in any setting!
*This 3-week programme includes a one-week pre-trip programme in Singapore and a 2-week immersion in the host country.
Youth Expedition Programme (YEP)
Become a confident, resilient leader while working with your team to support an underserved community overseas. Gain a deeper understanding of local socio-economic issues as you immerse in communities in countries such as Cambodia, Indonesia, Laos, Malaysia, the Philippines, Thailand and Vietnam!
STRETCH YOUR POTENTIAL
At NP you can stretch your potential and confidently achieve greater heights with a host of innovation and talent development programmes!

Graduate with a Minor
Double your future career opportunities and graduate with a Minor under our unique Personalised Learning Pathway. Gain experiences beyond your diploma and develop your skillsets to better equip yourself for the volatile workforce. Choose from four pathways and personalise your learning at your own pace. Sign up for learning units that suit your timetable and attain your Minor after completing 3 Learning Units!
Impacting our Community
As we nurture a big-hearted spirit in our students, Service-Learning plays a big role in our students' learning journey here in NP. You can address real community needs with the skills and knowledge from your diploma. These initiatives that positively impact the community can take different forms and be done in-person or even virtually.
Develop Leaders of Tomorrow
Through NP's signature development programme, The Christieara Programme, students can stretch their potential through specially curated programmes in the areas of leadership and personal development. With TCP, you can be a part of dialogues with Ministers and eminent speakers, learning journeys, empowerment and experiential camps. You will also get the chance to network with successful NP alumni, and be a part of meaningful mentorship programmes!
SPARK YOUR ENTREPRENEURIAL PASSION
Well-known to be the poly for budding entrepreneurs, let NP help you turn your business idea into reality!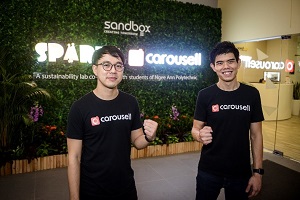 SPARK! NP x Carousell Sustainability Lab
Dedicated to housing and nurturing student start-ups, this is where you can gain access to resources –such as complimentary CarouBiz accounts! – that will help you explore your sustainability-focused business ideas.
AGILE Incubator Space
Set up with the support of UOB Bank, this space helps graduate entrepreneurs to take their start-ups to the next level. Meet and mingle with some of them to get inspired!
Get one step closer to fulfilling your dreams with the support of our innovation & entrepreneurship office, The Sandbox. Receive funding and be a part of specialised programmes offered!
Check out our student-run businesses and winners of F&B competition, Be Your Own Boss (BYOB) at NP!
Already have a business idea or keen to learn more about being your own boss? Get started with NP's Entrepreneurship First Steps programme! The free online course specially created for secondary school & ITE students will help you to develop and grow your business idea at your own pace. You can also include your business proposal* to supplement your EAE application!
*Students are to have completed the entire EFS programme and submitted their business proposal to TSB within the stipulated timeframe in order to qualify for the inclusion within the EAE application.