SCHOOL OF LIFE SCIENCES & CHEMICAL TECHNOLOGY
FRESHMEN ORIENTATION
10-12 APRIL 2023
Come on board to the School of Life Sciences & Chemical Technology (LSCT)!
The School of Life Sciences & Technology (LSCT) is excited to have you join us!
To welcome you, we have put together an exciting three-day orientation programme, from 10th to 12th April 2023, for ALL LSCT Freshmen.
Programme highlights
To help you transit smoothly from secondary school to Polytechnic, we have designed this freshmen orientation programme for you to experience a fantastic and enriching start to your three-year journey in LSCT. Here's what you can look forward to:
Many fun and exciting team-building activities to promote bonding and build cohesion among you and your new classmates.
Gain awareness of opportunities to develop yourself and learning experiences during your course of study at Ngee Ann Polytechnic.
A chance to connect with your lecturers and advisors to understand the highlights of your respective courses.
Make friends with senior students and get their insider tips on how to do well in the Polytechnic.
Feel the LSCT culture and be integrated into the big LSCT Family!
And importantly, administrative briefings and campus tours to familiarize you with the administrative issues and campus.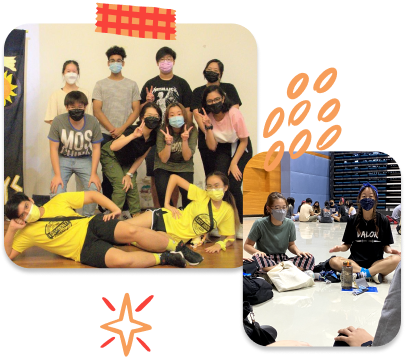 Date & Time
10 April 2023 (Monday) 0900 – 1800
11 April 2023 (Tuesday) 0900 – 1800
12 April 2023 (Wednesday) 0900 – 2000
Venue
NP Convention Centre (refer to the directional map here)
Expectations
Attendance will be taken at 9.00 am daily.
Be punctual and follow the orientation buddies' instructions for safety purposes.
Freshmen are encouraged to participate actively in the programme to benefit fully from the programme.
Inform orientation buddy/staff-in-charge if you are uncomfortable or unable to participate in certain activities due to physical and/or health conditions.
Attire
Comfortable wear and shoes as there will be some walking and games.
There will not be any wet games but we recommend a change of clothes at the end of the day.
What to Bring
Water bottle
Pen and paper to take notes
Personal medication (if necessary)
Phone and some cash
* Please refrain from bringing your laptops and valuables to the orientation programme
Outline of Programme (tentative)
DAY/DATE
TIME
ACTIVITY
DAY 1
10 April 2023
(Monday)
0830 – 0900
Registration
0900 – 1130
Director's talk, Academic and Student Development briefings
1130 – 1330
Lunch (provided)
1330 – 1630
Campus tour
1630 – 1800
LSCT cheers/Mass dance
1800
Dismissal
DAY/DATE
TIME
ACTIVITY
DAY 2
11 April 2023
(Tuesday)
0830 – 0900
Registration
0900 – 1200
Course briefing
1200 – 1230
Skits of tribes journey
1230 – 1400
Lunch (not provided)
1400 – 1700
Station games
1700 – 1830
LSCT cheers/Mass dance
1830
Dismissal
DAY/DATE
TIME
ACTIVITY
DAY 3
12 April 2023
(Wednesday)
0830 – 0900
Registration
0900 – 1300
1300 – 1430
Lunch
1430 – 1700
Mass games
1700 – 1845
Camp finale
1845 – 2000
Photobooth
1930 – 2000
Dinner (provided)
2000
Dismissal
For any queries on the orientation programme please contact:
Ms Seahmala (Seahmala_MUNIANDY@np.edu.sg, Tel: 6460 8117)
Dr Teoh (TEOH_Chun_Ming@np.edu.sg, Tel: 6460 7266)
Dr Xu Noel (Noel_XU@np.edu.sg, Tel: 6460 8960)
lsctsociety@gmail.com
Buying of Lab Coats and Safety Glasses
All students must wear a lab coat and safety glasses to work in LSCT laboratories. You may order and pay (by PayNOW) for lab coats and safety goggles through this form by Monday, 10 April 2023.
There are two packages, and you can also order the items individually. The sizes of the lab coats are in the diagram further down in the google form.
Remember to indicate your course and class to aid in the sorting.
If you have your lab coats and safety glasses from other sources, you do not need to buy through this portal as long as your lab coats are long-sleeved and have approximately the same dimensions as in the google form; your safety glasses should also be proper.
You do not need to collect the coats/glasses, nor will they be delivered to you. Your lecturers will pass them to you when they see you for your first practical coming semester (they will give them to you before you enter the lab).
For any queries on lab coats and safety glasses, please get in touch with Ms. Seahmala (
Seahmala_MUNIANDY@np.edu.sg
)
Follow Us on Socials