SCHOOL OF INFOCOMM TECHNOLOGY
FRESHMEN ORIENTATION
12-14 APRIL 2023
On behalf of the School of Infocomm Technology (ICT), we would like to extend a warm welcome to you!
We have put together a three-day orientation programme (12, 13 and 14 April 2023) to get you started on your exciting journey in Ngee Ann Polytechnic (NP). This programme is compulsory for all ICT Freshmen.

Day 1 will be held Online on 12 Apr 2023, followed by Day 2 and 3, on 13 and 14 Apr 2023, which will be face to face sessions held on NP campus grounds.

For Days 2 and 3, please report punctually to NP ICT campus (Blocks 27 and 31) at 9:00am. Your classroom location will be given to you during Day 1's Online Orientation.

Lunch will be provided. You are required to fill in the consent form (https://for.edu.sg/npictfop2023consent) in order to participate in the activities.
DATE
TIME
PROGRAMME
ATTIRE
12 Apr, Wed
(Online)
2pm to 6pm

Online Briefing
Welcome Speech
Online Games

Wear something presentable as you will be turning on your cameras to interact during games
13 Apr, Thu &
14 Apr, Fri
(F2F, NP Campus)
9am to 6pm

Assemble at Designated Classrooms
Campus Tour
Lunch
Games

Comfortable wear (e.g: t-shirt/ berms / jeans)
Note: No slippers for footwear.
There will be
no overnight stay
during the orientation.
Introduction
The FOP is specifically designed to help you ease into the life of a NP ICT student, get to know your courses, staff mentors, and make new friends. This is the start of your learning journey to become an IT or Creative Professional!

If you have any queries regarding the Orientation programme, please contact Mr. Joey Chew at: joey_chew@np.edu.sg.
What to Wear/Bring:
Comfortable wear for indoor and outdoors activities (sport/covered shoes, jeans/pants)
Water bottle
NRIC for collection of T-shirt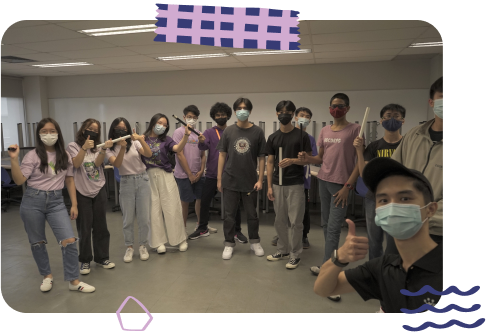 Important Notes on Notebook Computer Purchase
If you have not yet already purchased a notebook computer, we encourage you to do so from NP authorised vendors. Due to the intensive nature of hands-on coursework, it is highly recommended that your notebook should meet NP's minimum specifications to help you through your course of study.
All students from Common ICT Programme (CICTP), Diploma in Cybersecurity & Digital Forensics (CSF), Data Science (DS), Information Technology (IT) except those enrolled in the Diploma in Immersive Media (IM) are required to own Windows notebooks.
For IM students, you may own Apple MacBooks or Windows notebooks with dedicated graphics processing unit (GPU).
For CICTP students, you are required to own Windows notebooks with GPU.
For DS students, Windows notebooks with GPU is encouraged.
Please visit the following website for more information: www2.np.edu.sg/notebook/Pages/default.aspx
For other course information, please refer to the contact details listed below.
CONTACT PERSON
TELEPHONE
EMAIL
Freshmen Orientation Programme
Mr Joey Chew

6460 6874

Joey_CHEW@np.edu.sg
General Enquiries
Ms Siti Nur Shahidah Binte Hashim

6460 6838

Siti_Nur_Shahidah_HASHIM@np.edu.sg
Diploma in Information Technology (IT)
Mr Willey Tang
6460 6729
Willey_TANG@np.edu.sg
Diploma in Data Science (DS)
Mr Low Wee San
6460 6331
LOW_Wee_San@np.edu.sg
Diploma in Cybersecurity & Digital Forensics (CSF)
Dr Divyan Konidala
6460 6824
Divyan_KONIDALA@np.edu.sg
Diploma in Immersive Media (IM)
Mr Melvin Tan
6460 8254
Melvin_TAN@np.edu.sg
Common ICT Program (CICTP)
Dr Oon Wee Chong
6460 6854
OON_Wee_Chong@np.edu.sg
Computer Notebook Matters
Mr John Lim
6460 8012
John_LIM@np.edu.sg
Mr Jesmond Khoo
6460 6832
Jesmond_KHOO@np.edu.sg
FAQ
You will receive an sms from the school with details regarding to which cohort you belong to and when to report to school. If you did not receive the sms, please reach out to us.
Follow Us on Socials