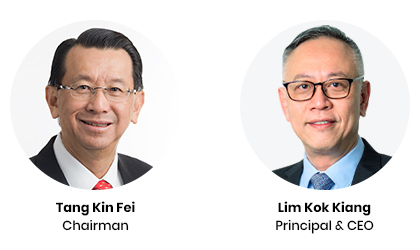 Even as Singapore valiantly emerges from the Covid-19 pandemic, our nation is pressing on to make our economy stronger and more resilient amid looming global challenges. Navigating these times takes vision and commitment – the vision to reimagine what it will take for our students and adult learners to thrive, and the commitment to lay the path that leads them to success. To this end, Ngee Ann Polytechnic (NP) has put in place new initiatives that focus on enhancing student experiences and industry relevance, as well as providing more choices in their learning. We are pleased to present our annual report which highlights our key milestones for the financial year that ended on 31 March 2022.
Enhancing learning experiences

---
The adoption of online learning during the early days of the pandemic inspired us to create new ways to leverage technology. What began as online classes via videoconferencing and other digital platforms evolved into experiences that were more immersive, engaging and impactful.
Our Office of Learning Technologies (OLT) launched NP Virtual World, an innovative digital learning platform to allow our students to engage in 3D immersive and collaborative experiences. For instance, to overcome the lack of exposure to an actual pharmacy during the pandemic, OLT worked with staff from our School of Life Sciences & Chemical Technology to create a virtual community pharmacy for pharmaceutical science students. Students engaged in self-directed learning as they explored the 3D interactive virtual pharmacy environment, which came embedded with videos, readings and quizzes. The virtual pharmacy simulation received positive reviews from students, who gained confidence in learning and applying the concepts taught in the course.
Moving forward, the future of learning looks set to combine the best of virtual learning with in-class sessions. To shape self-directed, digital-ready learners who are able to learn anytime and anywhere, we have taken our first steps in the direction of a 40:60 blended learning model, where 40 per cent of curriculum will be delivered virtually, while 60 per cent in-person.
Even though borders were closed, we continued to create opportunities for students to serve overseas communities. We organised a total of 14 sessions of the Youth Expedition Project Goes Online, or YEP-GO, for about 150 students last academic year. Through the virtual "overseas" experiences, students expanded their world view, grew their understanding of socio-economic issues, as well as developed their confidence and teamwork.
Our Office of Service-Learning also pressed on, working with various NP schools to create opportunities for our learners to experience NP's signature Service-Learning pedagogy, which allows them to apply their course skills to address community needs. Every NP student has the opportunity to work on a Service-Learning project which is infused into the curriculum. Not only does this facilitate deeper learning, it fosters in them a sense of service beyond self. Last year, around 90 virtual Service-Learning projects were carried out over 45 modules across NP, impacting about 5,800 learners.
Besides learning experiences, we have also made headway in providing a learning environment that promotes the mental well-being of our student community. As the pandemic turned the spotlight on mental health issues, we teamed up with The Social Quotient – a Singapore-based consultancy which advocates for inclusion – to organise an inaugural virtual mental health conference on World Mental Health Day. More than 200 students from Institutes of Higher Learning went away with a better understanding of how to build their own mental resilience, as well as support others in a crisis.
Importantly, we have also been cultivating a strong support network and culture of care among our students since the set-up of the Peer Helpers Programme in 2018. Last year, we equipped more than 600 students with peer helping skills, so that they could support peers in distress. To date, we have trained around 1,200 Peer Helpers.
Our students also stepped forth to help the less fortunate who were hard hit by the pandemic. A total of 92 Everyday Heroes Awards were given to deserving students to pay tribute to their big heartedness in initiating efforts such as raising funds for people with special needs and needy families, sourcing for laptops to help disadvantaged students cope with home-based learning, and tutoring them via virtual platforms.
Deepening partnerships with industry

---
With technology evolving rapidly and the demand for tech talents rising, there is a need to ensure that our curriculum keeps pace with industry and prepares our learners for careers of the future. We continue to work hard to bring industry into our curriculum to achieve greater depth in industry-real learning for our learners.
We launched our Robotics Research & Innovation Centre (RRIC) in October to partner businesses to customise robotic solutions – such as service robots and industrial robots – to streamline their work processes. A key showpiece at the event was HIRO (Healthcare Assistive Robot for Frontline Infection Control), a disinfection robot and safe management ambassador that the RRIC co-developed with SingHealth Polyclinics under a partnership sealed on the same day through a Memorandum of Understanding (MOU). We also showcased a suite of robotic solutions that the RRIC co-developed with 12 industry players across different sectors at our inaugural Robotics e-Symposium. All these partnerships stand us in good stead to develop talents in this deep tech field.
The School of InfoComm Technology pioneered a partnership with OCBC Bank last December to co-design a one-year curated internship programme to train our information technology students in industry-current tech skills. Since March 2022, the first batch of 26 interns has been undergoing training in in-demand areas such as data visualisation, machine learning, cloud technologies or mobile app development. With an earlier start and a longer runway to deepen their core skills and explore the latest web technologies in real-world settings, this industry-in-curriculum pathway will allow students to seize career opportunities in the dynamic technology field.
Another example of our close collaboration with industry that will see our "co-design, co-deliver and co-assess" model at work was the partnership that the School of Business & Accountancy (BA) forged with Resorts World Sentosa (RWS). Launched in March this year, the Sustainability@RWS Programme will give students in our Tourism & Resort Management course the opportunity to turn their sustainable tourism concepts into reality. Through such real-world learning experiences, our students will be equipped with skills that prepare them for exciting opportunities in the green economy.
Meanwhile, the partnership between NP and Prudential Singapore gave close to 90 third-year BA students the invaluable opportunity to help more than 30 small and medium-sized enterprises in their digital transformation journey. They developed a digital commerce playbook for these companies to guide them on the use of technologies that best meet their business needs. Through the experience, students not only saw the relevance of their education for the workplace, but also felt empowered to contribute to the growth of a company.
Giving students choices in their learning

---
With the workplace becoming more complex and diverse, we created a programme that would give our students choices in their learning to pursue their unique aspirations while gaining an edge in the future economy. Launched in April 2021, the Personalised Learning Pathway, or PLP, allows our students to take a minor subject from a different discipline to expand their knowledge base and widen their job prospects.
They can choose their minor from four pathways – professional skills, entrepreneurship, global readiness and social leadership. A total of 10 minor programmes were rolled out, including applied psychology, entrepreneurship, data analytics and cybersecurity. With the added skill set, our students will be well-placed to pivot more easily to new growth sectors in the future economy.
While we prepare our students for the corporate world, we also recognise that an increasing number have entrepreneurial aspirations. To help our students turn their business ideas into reality, our Global Innovation Alliance office launched the Global Start-up Fest in partnership with Enterprise Singapore. Budding entrepreneurs from various polytechnics pitched their ideas to global start-up founders during the one-day hybrid event in March 2022. More than 300 virtual and on-site attendees also gleaned insights from a fireside chat that featured eminent entrepreneurs such as NP alumnus Marcus Tan, co-founder of Carousell, Dr Gang Lu, founder of Technode, and Peter Vesterbacka, one of the founders of Angry Birds.
Similarly, students interested in immersing themselves in a start-up environment have the option of signing up for our signature Global Entrepreneurial Internship Programme (GEIP). Last year, 36 students participated in remote internships with overseas start-ups, during which they grew their professional network abroad. Another 14 students benefitted from GEIP internships with local companies in the start-up ecosystem, which included tech start-ups, innovation labs and venture capital firms.
Helping learners stay agile

---
As an institute of higher learning, it is part of our mission to help Singaporeans of all ages stay relevant in today's world through skills-upgrading and reskilling.
In the past year, our CET Academy (CETA) offered more than 53,000 training places and trained more than 42,000 adult learners. It achieved nearly 1.7 million training hours, a jump of about 20 per cent compared to the previous academic year.
Among the corporate partnerships CETA entered last year was one with Grab Singapore to run short courses to improve the service quality of its delivery riders in the areas of food hygiene and occupational safety. Both CETA and Grab Singapore also collaborated with a mental health tech company, Intellect, to launch a new mental wellness course to strengthen the mental resilience of gig workers.
CETA also stepped forward to be a training partner for a two-day SkillsFuture for Digital Workplace course and expanded its Digital Reboot programme for small and medium enterprises to include an accounting and human resources automation track.
In addition, it rolled out a part-time Diploma in Digital Communications, and a new Specialist Diploma in Cloud Security.
The way forward

---
By prioritising on experiences, relevance and choices for our students and learners, we are confident that they will be well-placed to thrive in a constantly evolving workplace and contribute to building a stronger Singapore in a post-pandemic world.
We thank our lecturers and staff for their dedication and hard work, without which all these initiatives would not have been possible. We deeply appreciate parents, alumni, advisory committees, industry and community partners, as well as colleagues from the Ministry of Education for their steadfast support. We are also grateful for the guidance of our fellow council members, and especially deputy chairperson Mrs Deborah Ong and Mr Pek Lian Guan, who stepped down in March 2021.
Last but not the least, we would also like to extend a warm welcome to Mr Willie Tan, our new Council deputy chairman, and members Dr Ayesha Khanna and Ms Pauline Goh.
Together, we will continue our mission of nurturing lifelong learners who are valued at the workplace and by society.
Lim Kok Kiang
Principal & CEO