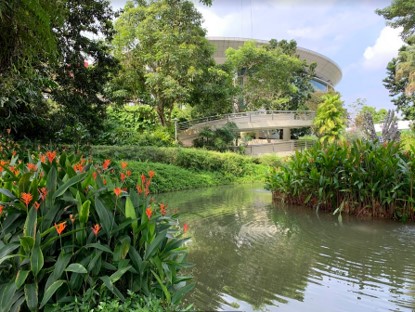 Eco Pond @Blk 56
Nature Pond @Blk 56 is a natural pond surrounded by lush greenery at the heart of the campus. Water from the surrounding drainage canals flows through the eco pond before joining the downstream drainage network, eliminating the need to use potable water to top up the pond. The floating wetlands in the pond mimic the wetland ecosystem and remove pollutants like nitrates and phosphates from water. This improves the quality of water when it overflows to the downstream segment of the drainage canals, reducing the risk of algae bloom.
The eco pond provides a natural habitat for birds and fishes. A balance of moving water from the fountain, fishes, turtles and aquatic plants is essential for the overall health of the pond ecosystem by promoting aeration and maintaining good water quality.
This pond also serves as an outdoor learning lab for students from the Diploma in Environmental & Water Technology who collect water samples for quality monitoring and analysis. Floating wetland workshops are conducted as one of the fringe activities of the Singapore Junior Water Prize, hosted by the School of Life Sciences & Chemical Technology.